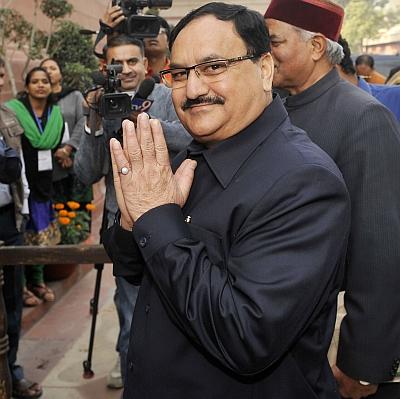 All private medical colleges will come under the ambit of National Eligibility cum Entrance Test, Health Minister J P Nadda said on Tuesday after an Ordinance to keep the state boards out of it for a year was signed by President Pranab Mukherjee.
Noting that the Ordinance has given a "firm and statutory" support to the common medical entrance test, he said the students in states will get an opportunity to appear this year (2016-17) for undergraduate exams.
"All private institutions and medical colleges will come under the ambit of NEET. The state governments will get an option to either conduct their own exam or go for NEET to fill UG seats. However, for PG courses, the exam will be held under NEET for 2017-18 session, in December this year.
"The states will have an option. Approximately five states have undertaken their test. 6.5 lakh candidates have appeared in various state exams. 6.25 lakh have appeared in NEET 1," Nadda told media persons in New Delhi.
"There are states which have deferred their exam like UP while Bihar has opted for NEET. They have an option. But these seats will be filled either by NEET or state governments," he said.
After having raised queries, the President on Tuesday signed the Ordinance which has a provision for states to keep out of NEET for a year.
Mukherjee signed the Ordinance after health ministry officials returned with the file addressing all the queries raised by him.
Attorney General Mukul Rohatgi was at the President's Secretariat early Tuesday morning along with the top ministry officials to respond to clarifications sought by Mukherjee on NEET.
Nadda said that in the Ordinance, a provision has been made where an exemption has been given to state governments.
Nadda said this year, the NEET examination will be conducted on July 24.
He said Haryana, Himachal Pradesh, Manipur, Madhya Pradesh, Rajasthan, Odisha and Chandigarh have conducted exams under NEET.
Bihar too has opted for NEET from this year though Delhi is yet to take a decision, he said.
Nadda said the states that have deferred the exams are West Bengal, Chhattisgarh, Assam and Andhra Pradesh.
"All state seats will be filled up either by NEET or by their state examination board and in private medical colleges, the quota that they have for states will also be filled up by the state list or NEET list. PG examination in December 2016 will be a complete NEET," he said.
He said the states had not effectively put forth their views in the right perspective before the Supreme Court.
"In order to provide them relief, we brought this Ordinance," he said.
"The government was very clear from the beginning that it was in favour of NEET," the health minister said.
He said that after the apex court order, many state governments had approached the Centre and apprised it of various issues, including ongoing tests of states, parity of syllabus and regional languages.
Nadda said that after due consultations, including an all-party meeting and state health ministers' meet, a consensus was reached that NEET "in principle" is to be implemented which is why the Ordinance was brought.
Rejecting Congress' charge that the government was going against NEET, he said the Centre always favoured it.
"It is very wrong. In the all-party meeting, where Jairam Ramesh was also present, I had said NEET should be implemented and for this year, exemption should be granted for undergraduate courses," he said.