Apollo Hospitals and Fortis Healthcare are open to importing vaccines.
Sohini Das reports.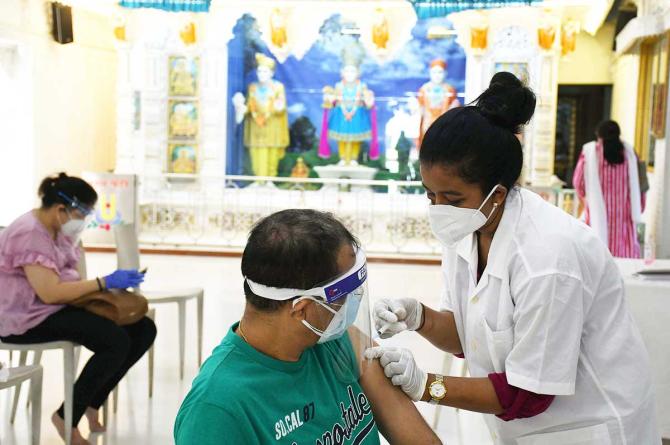 As supplies of COVID-19 vaccines in India face constraints after vaccination was opened to all above 18, private hospital networks say they are exploring the option of importing vaccines as well as augmenting supplies.
Two major hospital groups, Apollo Hospitals and Fortis Healthcare, said they are open to exploring opportunities to import.
Suneeta Reddy, managing director, Apollo Hospitals Group, said it had planned the vaccination drive early and has supplies from both manufacturers -- Serum Institute and Bharat Biotech.
Apollo is vaccinating 30,000 people a day now.
'We have both Covishield and Covaxin, but the stocks will run out quickly. The ability to import is very useful. We have set aside some funds to make these imports,' Reddy told a television channel.
Apollo would work with the drugs regulator to facilitate this.
Fortis Healthcare, too, is open to importing vaccines.
Ashutosh Raghuvanshi, MD and CEO, Fortis Healthcare, said it will definitely look into it once clarity emerges on pricing.
"One needs to have some scale. We are not getting much from the local players yet. We only got around 50,000 doses of Covaxin from Bharat Biotech and nothing so far from Serum Institute," he added.
Hospital groups have started coming together to facilitate procurement of Covid vaccines.
The Association of Healthcare Providers (India) and the Confederation of Indian Industry are working to gather information from over 4,000 hospitals across India to understand the demand for vaccines and how it can be met.
Joy Chakraborty, chief operating officer of the Mumbai-based P D Hinduja Hospital and also the chairman of AHPI, western region, said the hospital has already started to gather information on the demand it estimates for Covid vaccines.
It will see whether these could be procured either from local manufacturers or through imports.
"We are talking to manufacturers who can import vaccines, and are trying to ensure that there are enough supplies for those who want the jab," Chakraborty added.
Some hospital groups, however, preferred to stick to local manufacturers of Covid vaccines.
Dilip Jose, MD, Manipal Hospitals Group, said it is sticking to local manufacturers for now.
"We have received doses from Bharat Biotech and are talking to Serum Institute too. Vaccine makers have assured us that by mid-June, supplies would be streamlined for private hospitals," said Jose.
A hospital industry source felt that imports would not mean much in the near term, as these would not be of high volumes. However, it would offer more choice to the citizen, he added.
"Ideally, private hospitals and corporates need not compete with each other for importing vaccines," said a hospital administrator.
"What is more important is that the country should get the vaccines it needs. The importing should be a centralised process, which can be distributed among the private sector based on demand."
Feature Presentation: Ashish Narsale/Rediff.com