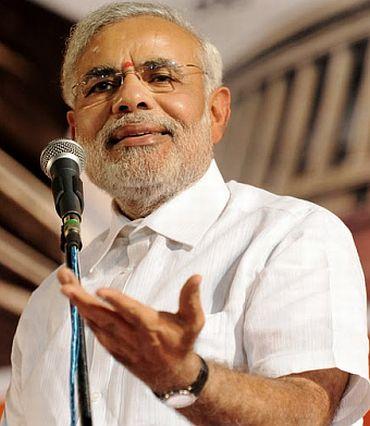 Prime Minister Narendra Modi is expected to visit his Parliamentary constituency Varanasi on September 18, a trip that he has been forced to cancel thrice earlier.
Additional District Magistrate (Protocol) Om Prakash Chaubey on Thursday said an initial intimation regarding the proposed visit of the prime minister on September 18 has been received.
During his visit, Modi will inaugurate Integrated Power Development Scheme at DLW grounds in Varanasi and lay foundation stone for a ring road project.
He will also launch a project for four-laning of a road and address a public meeting in Varanasi, Bhardwaj said.
The prime minister had planned to undertake a visit to his Lok Sabha constituency twice earlier but was forced to cancel both the times.
First time, he was scheduled to visit on October 12 last year but cancelled it in view of the devastation caused by Hudhud cyclone in eastern parts of the country.
Second time, he was to visit on June 28 but had to cancel it at the last minute because of water-logging in DLW grounds caused by incessant rains.
He again planned to visit Varanasi on July 16 but cancelled it after a labourer died while working at the DLW grounds during preparations for his visit.
Ahead of PM's visit, Bharatiya Janata Party president Amit Shah will undertake a trip to Varanasi on September 15.
He is scheduled to attend a programme in Ghazipur and Salempur districts and then will return to Delhi the same day, said Sanjay Bhardwaj, media in-charge of Varanasi constituency as well as Purvanchal (Eastern UP) region.