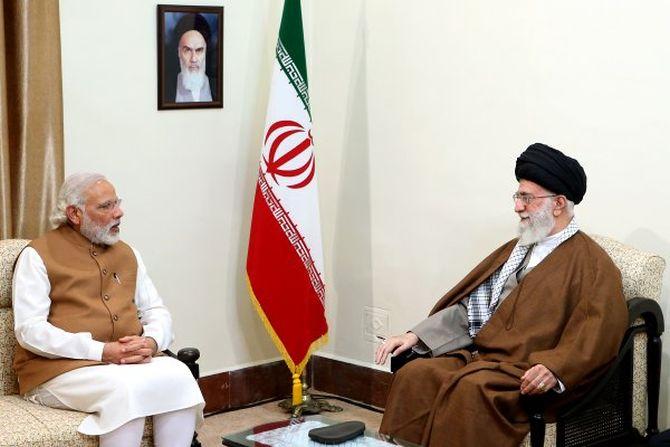 IMAGE: Prime Minister Narendra Modi with Iranian Supreme Leader Ali Khamenei. Photograph: khamenei_ir/Twitter
Prime Minister Narendra Modi on Monday called on Iranian Supreme Leader Ali Khamenei, signifying the strength of the unique relationship between the two countries.
Modi, the first Indian Prime Minister to visit the Islamic Republic after 15 years on a bilateral visit after Atal Bihari Vajpayee, called on Khamenei at his office towards the end of his two-day visit.
"A rare honour, signifying the strength of the unique relationship. Supreme Leader Ali Khamenei receives PM @narendramodi," External Affairs Ministry spokesman Vikas Swarup tweeted.
Khamenei, who has the final say over matters related to Iran's foreign policy and key issues, welcomed Modi.
"Prime Minister of India H E Narendra Modi @narendramodi met with Leader of Revolution," said a tweet from his office.
Modi also gifted Khamenei a rare 7th century manuscript of the Holy Quran written in Kufic script and attributed to Prophet's son-in-law Hazrat Ali.
Modi gifted the Supreme Leader the specially commissioned reproduction of rare 7th Century manuscript of the Holy Quran attributed to Hazrat Ali, the fourth Islamic caliph and first Shia Imam.
Written in Kufic script, the manuscript is a prized possession of the Ministry of Culture's at Rampur Raza library in Uttar Pradesh.
Kufic -- developed around the end of the 7th century in Kufa, Iraq -- is the oldest calligraphic form of the various Arabic scripts.
Earlier in the day, Modi met Iranian President Hassan Rouhani and held one-on-one talks.
The two countries pledged to combat terrorism and radicalism as they signed 12 agreements including a "milestone" pact on developing the strategic Chabahar port, giving a boost to economic partnership in the post-sanctions era.
India also committed around $500 million for the important port in Iran's southern coast, which will serve as a "point of connectivity" between India, Afghanistan, Commonwealth of Independent States countries and East Europe.
Modi's visit comes months after lifting of international sanctions on Iran following Tehran's historic nuclear deal with the western powers over its contentious atomic programme.