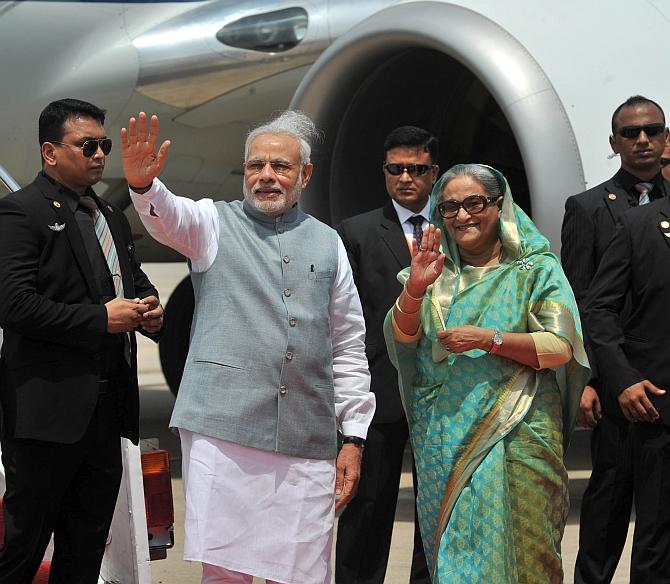 Prime Minister Narendra Modi on Saturday arrived in Dhaka to a red carpet welcome on his maiden visit which is expected to put ties with Bangladesh in a new trajectory, as the two sides will firm up a number of pacts to boost cooperation besides ratifying the long-pending Land Boundary Agreement.
In a special gesture, Modi was received at the Hazrat Shahjalal International airport by Prime Minister Sheikh Hasina and a number of her Ministerial colleagues including Finance Minister AMA Muhith, Commerce Minister Tofail Ahmed and Agriculture Minister Moti Choudhury.
Modi was given a guard of honour at the airport.
Reflecting high expectations from the visit, the capital has been decked up with big hoardings carrying photographs of Modi besides life-size cutouts of him, West Bengal Chief Minister Mamata Banerjee and Hasina. Banerjee arrived in Dhaka on Friday night.
"Leaving for Bangladesh. This visit is going to strengthen the bond between our Nations, benefitting people of our countries & our region," Modi had tweeted ahead of his departure from New Delhi.
During his two-day visit, part of his policy to deepen engagement with India's immediate neighbourhood, Modi will hold wide-ranging talks with Hasina on the whole gamut of ties and ways to move forward further.
In Dhaka, Modi is expected to send a strong message to strengthen the hand of his Bangladesh counterpart who has been steadfastly helping India in curbing various north-east militant groups who used to take refuge in that country besides coming down hard on radical Muslim outfits.
Ahead of the visit, Modi had lauded Hasina for playing an 'important role' in making the bilateral ties 'strong' and said, "I am certain my visit will be beneficial for the people of both our nations and in the larger good of the South Asian neighbourhood."
Bangladesh and India share a 4,096-km-long border, most of which is porous, and both the countries are likely to try and find ways to enhance security cooperation, particularly to further contain northeast insurgent groups.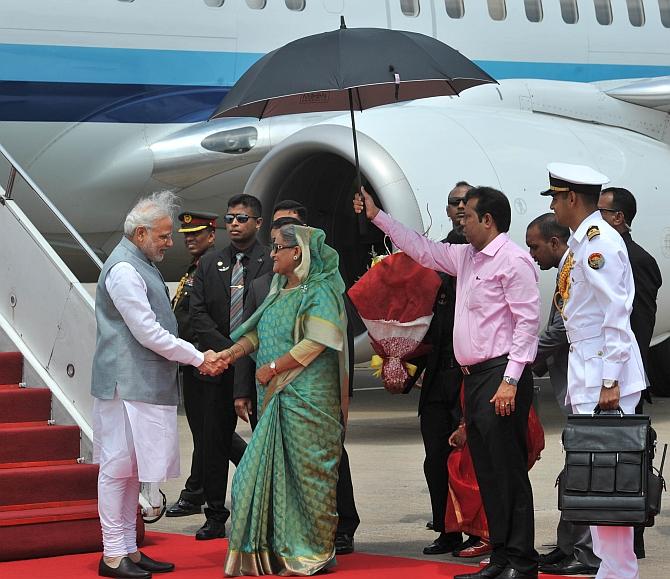 Ratification of the Land Boundary Agreement will be a major highlight of Modi's visit to Dhaka.
Earlier this month, Parliament had passed a historic constitution amendment bill seeking to settle India's 41-year-old border issue with Bangladesh. The bill paved way for operationalisation of the 1974 India-Bangladesh Land Boundary Agreement that provides for exchange of 161 enclaves between the two countries.
Enhancing rail, road and water connectivity and boosting economic engagement will find priority and a number of pacts are likely to be signed in these areas. A pact to supply diesel to Bangladesh has also been finalised and would be inked.
Bangladesh is an important trading partner for India. The two-way trade in 2012-2013 was $5.34 billion with India's exports to Bangladesh accounting for $4.776 billion and imports $0.564 million.
Modi, Banerjee and Hasina will flag off bus service between Kolkata and Agartala via Dhaka and the Dhaka-Shillong-Guwahati bus service. The two countries are keen to strengthen railway connectivity, particularly to revive railway links which were in existence prior to 1965.
They are also set to sign a coastal shipping agreement to facilitate sailing of small vessels from India to various ports in Bangladesh which now go through Singapore.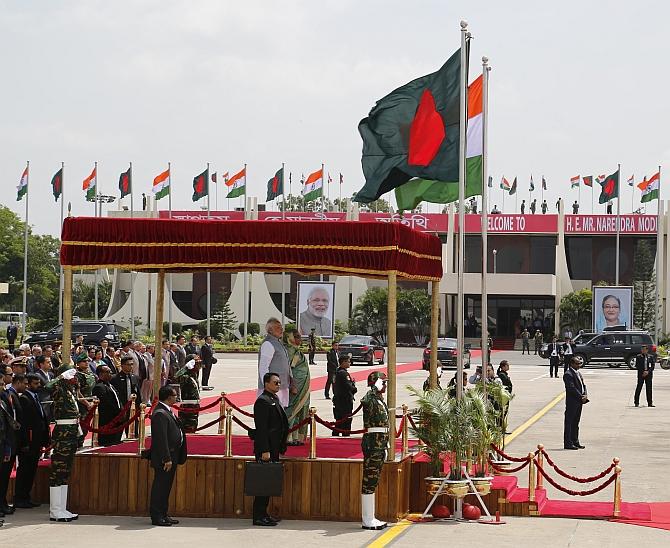 India will also push for involvement of Indian companies in setting up of ports in that country. The issue of Bangladesh, Bhutan, India and Nepal Motor Vehicle Agreement is also likely to figure in the talks Modi will have with Hasina. India feels improving connectivity with Bangladesh will help linking the Northeastern region with Southeast Asia.
On the trade front, there will be efforts to spur Indian investment in Bangladesh and an enabling MoU may be signed to facilitate setting up of Special Economic Zones by Indian companies in that country.
India has already announced that the long-pending Teesta water-sharing pact with Bangladesh will not be signed during the visit. However, issues relating to sharing of other river waters and waterways was expected to figure in the talks.
The Teesta deal was set to be inked during the then Prime Minister Manmohan Singh's visit to Bangladesh in September 2011 but was postponed at the last minute due to objections by Banerjee, who had also dropped out of the prime ministerial delegation.
Teesta water is crucial for Bangladesh, especially in the leanest period from December to March when the water flow often temporarily comes down to less than 1,000 cusecs from 5,000 cusecs.
Photograph courtesy: ANI