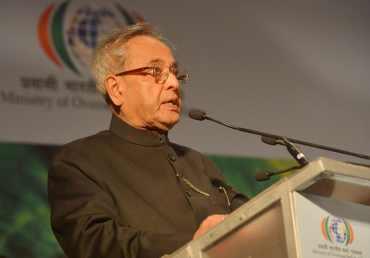 There is an important role that each one of you can play in India's journey to becoming a strong, just and equitable society and taking its rightful place in the comity of nations, said President Pranab Mukherjee at the Pravasi Bhartiya Divas convention on Wednesday.
Mukherjee delivered the valedictory address at the 11th edition of the Pravasi Bhartiya Divas Convention at Kochi. Addressing the gathering, he said that with the knowledge and experience they had gained as academics, scholars, scientists, technologists, professionals and businessmen, they could play a decisive role in the development of India. "We are proud of your achievements and the invaluable service that you have rendered India, the nation of your roots," the President stated.
The President said he wished to see the Indian Diaspora as a stronger partner, not only in India's economic growth, but also in building India's knowledge society, while continuing to engage
culturally and emotionally, and serving as the effective ambassadors that they have been for this country.
He said that the Indian Diaspora has made our nation proud through the significant contributions that they have made to the development of the nations, which they have chosen to make their homes. It is a matter of pride for every Indian that today there are a  least five heads of states or heads of governments and over 70 senior political leaders such as deputy heads of state, speakers and ministers in various countries who can trace their roots to India, he added.
On the occasion, the President reminded that India is, today, a land of immense opportunities and they too can become partners in the progress of the nation.
Read the full text of the speech here
Image: President Pranab Mukherjee delivers a speech at the Pravasi Bharatiya Divas meet on Wednesday | Photograph: Press Information Bureau