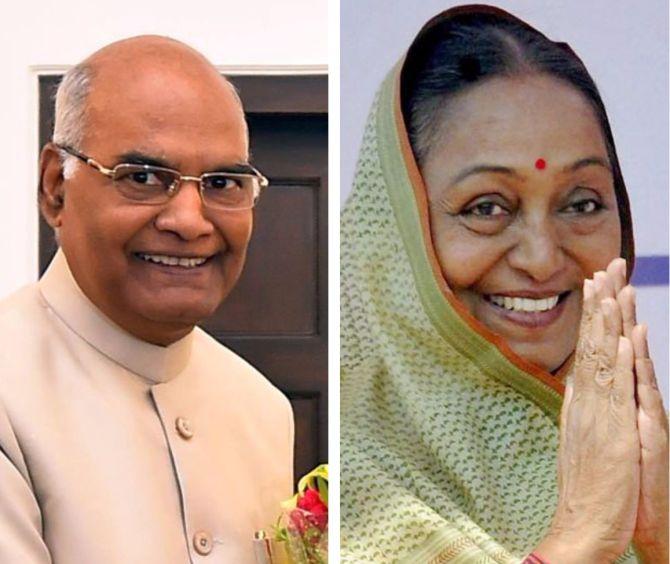 The Bharatiya Janata Party expects cross-voting from opposition ranks, especially in Uttar Pradesh and Bihar, in favour of National Democratic Alliance presidential candidate Ram Nath Kovind.
The internal bickering in the Samajwadi Party, some of whose MLAs owe allegiance to Mulayam Singh Yadav and his brother Shivpal Yadav, coupled with the fact that Kovind is a son of the soil could nudge a section of its lawmakers to vote for him, sources said.
Mulayam, a Lok Sabha MP, had expressed his support for Kovind after he was declared the NDA's candidate. The recent meetings of Shivpal, who is opposed to the leadership of party president and former chief minister Akhilesh Yadav, with Uttar Pradesh Chief Minister Yogi Adityanath has fuelled speculation about his future move.
BJP sources involved with the Kovind's campaign said they expected some lawmakers from the SP to vote for him.
With the Mayawati-led Bahujan Samaj Party staring at an uncertain future, some of its law-makers too can defy her support for the opposition's candidate Meira Kumar and instead vote for Kovind.
The SP and BSP have 54 and 19 MLAs in the 403-member UP assembly. The SP has five Lok Sabha members and 18 in the Rajya Sabha. The BSP has six members in the Rajya Sabha.
As the saffron party is in power at the Centre and Uttar Pradesh as well, some opposition members may be swayed to vote for its nominee.
Though opposition parties are in much stronger position in Bihar but the fissure in their ranks after Chief Minister and Janata Dal-United chief Nitish Kumar's support to Kovind has made things fluid.
A BJP leader said they were not ruling out cross votings from the Congress and the Rashtriya Janata Dal camps.
RJD chief Lalu Prasad is working overtime to ensure that there is maximum possible voting in favour of Kumar but the Congress could be more vulnerable, he said.
As there is no provision for party whips in the presidential election, MPs and MLAs are free to vote as per their preference and it is not possible to find out an individual's choice.
The poll is scheduled for July 17 and the counting of votes will take place on July 20.
© Copyright 2020 PTI. All rights reserved. Republication or redistribution of PTI content, including by framing or similar means, is expressly prohibited without the prior written consent.