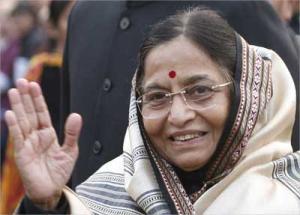 Has President Pratibha Patil become an embarrassment to the United Progressive Alliance government? The answer is in the affirmative, if judged by reports emanating from the highest corridors of power.
It is learnt that Finance Minister Pranab Mukherjee called on the President on Thursday morning and had a one-on-one breakfast meeting. Sources said it was a meeting which was held at Mukherjee's behest, where the two discussed "some important issues"
After the meeting, Pranab Mukherjee called on the prime minister with sources saying that he briefed Dr Manmohan Singh on his discussions with the President. The prime minister called on the President this evening and had one-hour-long meeting.
The Rashtrapati Bhawan is at pains to point out that the meeting was to do with the approaching Budget session of Parliament, price rise and other issues and that the meeting was pre-fixed and nothing more should be read into it.
However, the land-grabbing case involving Patil's husband in Maharashtra is being hotly debated in New Delhi.
The Rashtrapathi Bhawan has come under a cloud after the case surfaced against President's husband in Amravati, Pratibha Patil's constituency.
Some Congressmen have expressed fear that if the land is not returned soon, the President's husband could face further embarrassment.
A senior Congress leader said, "If this is not a matter of great and grave concern for the government, then one would like to know what it  is".
He said Pranab Mukherjee, being the the senior most and the most experienced person, is the best person to handle such a delicate issue involving the President.
At the moment, the government is worried on the issue. Sources say the Congress president is being kept totally in the loop on all issues related to the President.
With Parliament session approaching, there are apprehensions that the Opposition would rake up the issue and demand an explanation from the government on the issue.