President Trump gets straight to work post inauguration, signing new executive orders. On the White House website, his staff post a variety of proposals ranging from an "American First Foreign Policy" to killing former President Obama's climate action plan with agenda largely echoing his campaign website.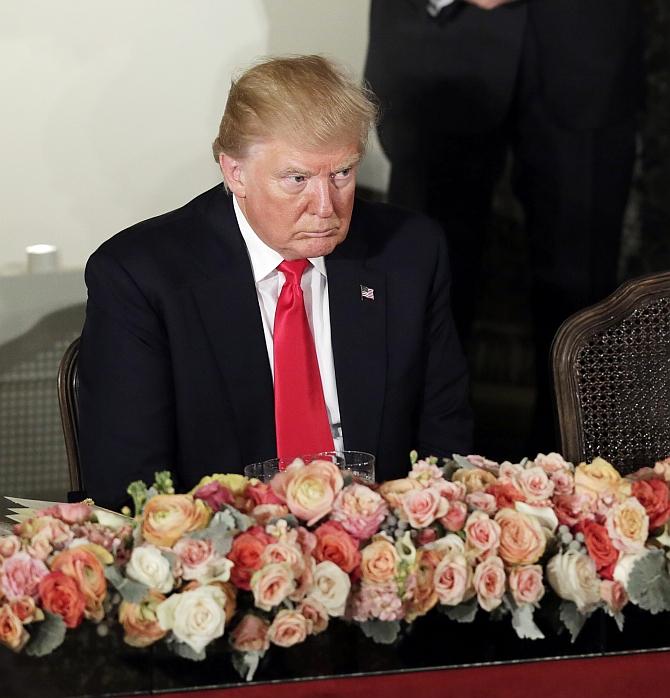 Donald Trump, the 45th President of the US, has announced to end the cut in military budget implemented by the previous Obama administration and said it would develop a state-of-the-art missile system, rebuild the military, and develop offensive cyber capabilities.
"President Trump will end the defence sequester and submit a new budget to Congress outlining a plan to rebuild our military. We will provide our military leaders with the means to plan for our future defence needs," the White House said moments after Trump was sworn in as the new President of the United States.
"We will also develop a state-of-the-art missile defence system to protect against missile-based attacks from states like Iran and North Korea," it said.
Observing that cyberwarfare is an emerging battlefield, the White House said the US must take every measure to safeguard its national security secrets and systems.
"We will make it a priority to develop defencive and offensive cyber capabilities at our US Cyber Command, and recruit the best and brightest Americans to serve in this crucial area," it said.
Declaring that energy is an essential part of American life and a staple of the world economy, the White House said the Trump administration is committed to energy policies that lower costs for hardworking Americans and maximise the use of American resources, freeing US from dependence on foreign oil.
"President Trump is committed to eliminating harmful and unnecessary policies such as the Climate Action Plan and the Waters of the US rule. Lifting these restrictions will greatly help American workers, increasing wages by more than $30 billion over the next seven years," it said.
The White House said the Trump administration will embrace the shale oil and gas revolution to bring jobs and prosperity to millions of Americans.
"We must take advantage of the estimated USD 50 trillion in untapped shale, oil, and natural gas reserves, especially those on federal lands that the American people own," it said.
Souding a warning to NAFTA, the White House said if partners refuse a renegotiation that gives American workers a fair deal, then the President will give notice of the United States' intent to withdraw from NAFTA.
According to the White House, to get the economy back on track, Trump has outlined a bold plan to create 25 million new American jobs in the next decade and return to four percent annual economic growth.
The plan starts with pro-growth tax reform to help American workers and businesses keep more of their hard-earned dollars, it said.
Trump's plan will lower rates for Americans in every tax bracket, simplify the tax code, and reduce the US corporate tax rate, which is one of the highest in the world, it said.
"Fixing a tax code that is outdated, overly complex, and too onerous will unleash America's economy, creating millions of new jobs and boosting economic growth," it said.
Trump has proposed a moratorium on new federal regulations and is ordering the heads of federal agencies and departments to identify job-killing regulations that should be repealed, the White House said.
Photograph: Scott Applewhite/Pool/Getty Images