President Pranab Mukherjee on Friday left for home after a four-day visit to China that saw him meeting the top Chinese leadership and discussing the sticky boundary issue and cooperation in combating terrorism besides the need for a predictable nuclear regime.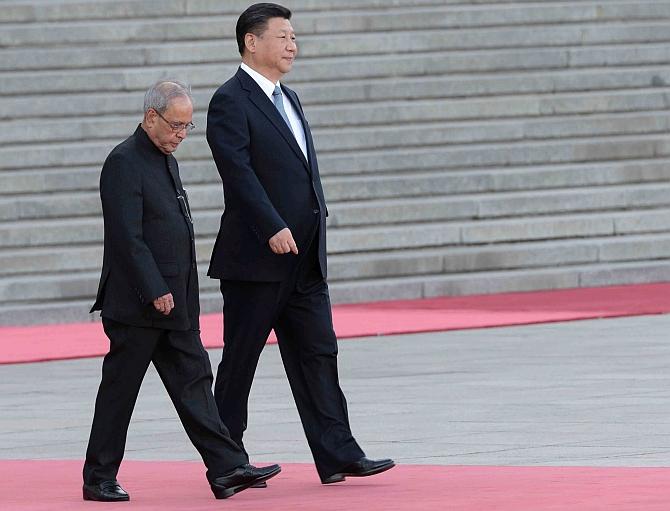 Mukherjee, who made his first visit to China as President, met his Chinese counterpart Xi Jinping on Thursday during which he told him that Sino-India relations have acquired "strategic significance" and if the two countries work together they can generate "tremendous momentum" for global peace and prosperity.
India also sought China's cooperation in international fora like the UN in the fight against terrorism making it clear that there was "no good or bad terrorists" and told Beijing that it should play a positive role in ensuring a predictable nuclear regime as New Delhi seeks to join the elite Nuclear Suppliers Group.
The two issues came up during Mukherjee's talks with Xi and Premier Li Keqiang at the Great Hall of the People.
Largely, there was appreciation of the President's visit by the Chinese leadership and all the three leaders acknowledged his positive role in building the bilateral relationship during his long political career in different capacities. However, there was acknowledgement of differences as well.
On the vexed border issue, both sides acknowledged the fact that differences should not come in the way of improving ties in other areas. The main intention was to maintain peace and tranquillity while addressing the boundary question.
Earlier, Mukherjee also addressed a meeting of the India-China Business Forum in Guangzhou, where India sought from China greater market for its products like drugs and pharmaceuticals, IT and IT–related services and agro-products.
The Chinese president looked forward to closer cultural and people-to-people exchanges as well as law-enforcement and security cooperation between the two countries.
He called for efforts to join their development strategies, advance the construction of the Bangladesh-China-India-Myanmar economic corridor, a component of China's mega Silk Road initiative in which India is taking part.
He also said India which has joined the China proposed Asian Infrastructure Investment Bank should make it a professional and efficient financing platform and conclude the negotiations on the Regional Comprehensive Economic Partnership at an early date.
Commenting on Mukherjee's visit, Sun Shihai, director of the Chinese Association for South Asian Studies, said the Indian President's trip follows a visit to India by Xi in 2014 and seeks to convey the message that the two countries are ready to maintain the tempo of high-level interactions.
Sun said that while China is concerned with improving ties between India and other countries, including the US and Japan, Mukherjee's visit shows India's efforts to strike a balance in its relations with these countries.
Fu Xiaoqiang, a scholar on South Asian studies at the China Institutes of Contemporary International Relations, said Mukherjee has very good understanding of China.
He has visited China a number of times in different capacities. He has also met and interacted with top Chinese leaders, including Xi and Premier Li, during their visits to India, he told state-run China Daily.
These experiences will enable him to better connect with Chinese leaders.
"Given that Washington is drawing New Delhi to its side on security, the visit of Mukherjee will help to advance bilateral cooperation in all fields and eliminate disagreements," Fu said.
Prime Minister Narendra Modi is likely to attend the G20 summit in September, which will be followed by the BRICS summit in Goa, which Xi will probably attend, he said.
"The visits by leaders of the two nations this year will help to consolidate bilateral political trust, boost economic ties and facilitate people-to-people exchanges," Fu said.
Image: President Pranab Mukherjee with his Chinese counterpart Xi Jinping in Beijing. Photograph: Ministry of External Affairs
© Copyright 2023 PTI. All rights reserved. Republication or redistribution of PTI content, including by framing or similar means, is expressly prohibited without the prior written consent.