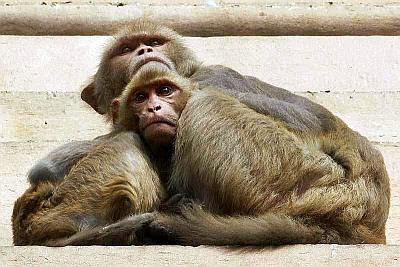 To keep monkeys at bay during President Pranab Mukherjee's visit to Banke Behari temple in Vrindavan on November 16, the district administration had decided to deploy langurs but it had to abort the plan following outcry from wildlife activists.
"We have decided to withdraw services of langurs as it is not permitted under Wildlife Protection Act. We are now thinking to come up with an alternative plan including use of net and battery-operated golf carts etc," Dhirendra Sachan, nodal officer for President's visit to Vrindavan, said.
Hundreds of monkeys reside in the area around the famous temple and often snatch spectacles, purse, mobile phones etc from the visitors there.
The district administration had earlier planned to deploy a group of langurs to keep the monkeys at bay, a decision which drew flak from various quarters. Keeping langurs in captivity is banned under the Wildlife Protection Act.
As per the schedule received by the district administration, the President would first participate in the prayer ceremony of Vrindavan's Chandrodaya temple and then pay obeisance to the principal deity of Banke Behari temple.
"No devotee would stay in Banke Behari temple after 10.30 am. Entry in the temple would be banned during Mukherjee's in the temple. Limited passes would be issued to members of Goswami community," Sachan said.
Elaborate security arrangements have been made for the President's Vrindavan visit, he added.
Sachan, who is also the additional district magistrate, said a four-tier security system would be put in place around the district.
"Vrindavan would be divided into nine zones and 32 sectors. While an ADM would be in-charge of each zone, different sectors would be looked after by SDMs who would act as sector magistrate," he said
SSP Manjil Saini said, "Four IPS officers, 12 Additional SP, 28 Deputy SPs, 32 SHOs, 1,000 constables and eight companies of PAC would be deployed for President's security.
"Bomb disposal squads and dog squads would strengthen the security arrangement," he added.
On traffic arrangements, Additional Superintendent of Police (Traffic) Ashutosh Dwivedi said, "Vrindavan-bound vehicles coming from Delhi side would go to Vrindavan via Gokul restaurant Masani and not from Chhatikara Tiraha. Vehicles coming through Expressway would go to Vrindan via Vrindavan cut or Raya cut."
Sachan added, "There will be no restriction on the stay of pilgrims in hotels, dharmashalas and ashrams of Vrindavan till the visit of President. Normal life would not be disturbed."