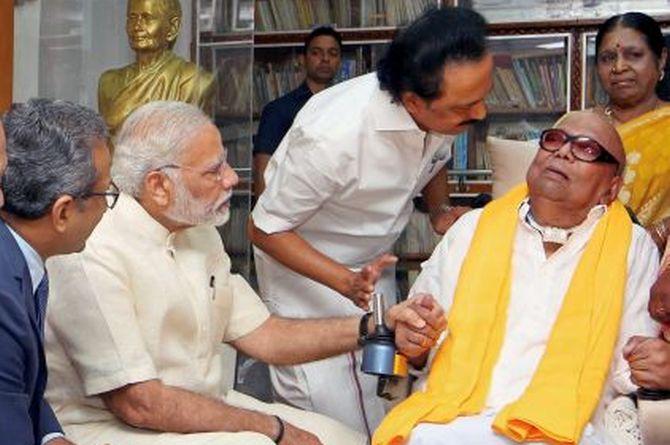 President Ram Nath Kovind, Prime Minister Narendra Modi and leaders all across the political spectrum on Tuesday mourned the death of Dravida Munnetra Kazhagam president M Karunanidhi.
'Extremely sad to learn of the passing of Thiru M Karunanidhi. A doyen of our public life, as a contributor to the development of Tamil Nadu and of India he has few peers. Our country is poorer today. My condolences to his family and millions of well-wishers #PresidentKovind,' the official handle of President of India tweeted.
Prime Minister Modi described the DMK chief as a prolific thinker and a deep-rooted mass leader who stood for regional aspiration and national progress.
'I am deeply saddened by the passing away of Kalaignar Karunanidhi. He was one of the senior most leaders of India. Kalaignar Karunanidhi stood for regional aspirations as well as national progress.
'He was steadfastly committed to the welfare of Tamils and ensured that Tamil Nadu's voice was effectively heard,' Modi said in his tweets.
The PM said that he had the opportunity of interacting with Karunanidhi on several occasions and his understanding of policy and emphasis on social welfare stood out.
He was firmly committed to democratic ideals and his strong opposition to the Emergency will always be remembered, Modi said.
'We have lost a deep-rooted mass leader, prolific thinker, accomplished writer and a stalwart whose life was devoted to the welfare of the poor and the marginalised,' the PM said.
'My thoughts are with the family and the countless supporters of Karunanidhi ji in this hour of grief. India and particularly Tamil Nadu will miss him immensely. May his soul rest in peace,' he tweeted.
Karunanidhi died at 6.10 pm on Tuesday at the age of 94 after prolonged illness.
United States Ambassador to India Ken Juster also expressed his condolences.
'On behalf of the United States Mission in India, I wish to extend our heartfelt condolences to the family of former Chief Minister Muthuvel #Karunanidhi and the people of Tamil Nadu. He will be remembered for his years of public service to his state and the country at large,' Juster tweeted.
Sri Lankan President Maithripala Sirisena also mourned the death of Karunanidhi.
'I am deeply saddened by the death of former Chief Minister and senior political leader Karunanidhi,' he said in a tweet, extending his condolences to the bereaved family and party cadres.
Here are some more reactions and tweets from Union ministers and other prominent politicians of the country:
Pranab Mukherjee, former President
Deeply saddened at the passing away of Kalaignar M Karunanidhi.60 years a legislator,5 times CM & a pillar of many coalitions at the Centre,he influenced his State's & the National politics like few others. My deepest condolences to his family & admirers. He will be missed deeply.
Rajnath Singh, Union home minister
Kalaignar Karunanidhi was a seasoned leader who dedicated himself in service to the poor and needy. He was a powerful voice of the marginalised section of our society. India mourns his demise.
Manmohan Singh, former prime minister
The country has lost a versatile genius who was an outstanding artist, an eminent writer and a true leader who always stood for the cause of the poor and downtrodden classes of the society.
Edappadi K Palaniswami, Tamil Nadu chief minister
Former chief minister Karunanidhi's demise is a big loss to Tamil Nadu. I was grieved to know that Mr M Karunanidhi, a present MLA, died at a private hospital. The veteran leader made his legislative debut in 1957 from Kulithalai constituency, remaining unbeaten in all elections that he contested since then.
Karunanidhi took over the reigns of the state as its chief minister in 1969. He strived for social justice. The DMK leader had displayed his talent in the cinema industry as a script and dialogue writer and created social awareness through them.
He left his imprint not just in Tamil Nadu politics, but on national politics.
Rahul Gandhi, Congress president
Loved by the Tamilian people, Kalaignar strode the stage of Tamil politics, like a colossus, for over 6 decades. In his passing, India has lost a great son. My condolences to his family as also to the millions of Indians who grieve for their beloved leader tonight. #Karunanidhi
Amit Shah, Bharatiya Janata Party president
Anguished to learn about the demise of veteran politician, M Karunanidhi ji. He had an impressive life journey, starting as a screen writer in Tamil film industry to being five term Chief Minister of Tamil Nadu. No one can forget his struggle during Emergency, imposed in 1975. (sic)
Smriti Irani, Union minister
Saddened by the demise of DMK Chief Kalaignar M Karunanidhi ji. My deepest condolences to his family members and supporters. Om Shanti!
Shashi Tharoor, Congress MP
News has just come in of the passing of Kalaignar Muthuvel Karunanidhi, a giant of Indian politics as CM of Tamil Nadu & a screenplay writer who gave voice to the Dravidian movement through his immortal dialogues. Tamil politics can never be the same again. RIP.
Pinarayi Vijayan, Kerala CM
Karunanidhi was one of the greats of Indian politics, but his contributions were not limited to politics. He was a man of letters who enriched the Tamil language with poems, novels, screenplays and plays. The legacy of the great leader will live on.
Nitish Kumar, Bihar Chief Minister
The country has lost a big political personality who always kept democratic values at the top. He was a leading personality of social and economic uplift in Tamil Nadu. People will always remember his contributions and achievements vis-a-vis uplift of deprived sections of the society and also for maintaining social harmony.
I had a very close relation with him. His death has caused irreparable loss to the fields of politics and society.
Mamata Banerjee, West Bengal Chief Minister
Today, India lost one of its greatest sons. And Tamil Nadu lost his father figure.
J P Nadda, Union minister
Deeply saddened by the demise of a patriarch of Dravidian #Karunanidhi ji. His death has left a void gap in Indian politics. My deepest condolences to people of Tamil Nadu and family of Karunanidhi ji. May his soul rest in peace. (sic)
Naveen Patnaik, Odisha CM
The tallest leader of Tamil Nadu, who played a key role in social change and reforms in the state.
As chief minister of Tamil Nadu for several terms, Karunanidhi had made significant contribution in the development of the state and had played a crucial role in national politics as well.
His contribution to Tamil literature and cinema was immense.
With his demise marks the end of an era in Tamil Nadu and India lost one of its worthiest sons.
Raghubar Das, Jharkhand CM
The vacuum created in politics following Karunanidhi's death will not be filled.
Arvind Kejriwal, Delhi CM
Feel v sad to hear about the demise of this great leader. May his soul rest in peace. Its a great loss to the nation (sic).
Devendra Fadnavis, Maharashtra CM
Karunanidhi's death is a great loss to the country. He was a popular leader who gave a new direction to Tamil Nadu politics. Social reforms were always his agenda.
Sharad Pawar, Nationalist Congress Party chief
Karunanidhi will always be remembered as a leader of masses in the Indian political realm.
Akhilesh Yadav, former Uttar Pradesh CM
Our heartfelt condolences to the family and supporters of Kalaignar Karunanidhi. His passing is a great loss to the nation. May his soul rest in peace.
Randeep Singh Surjewala, Congress leader
Condolences on the passing away of the of patriach of Tamil Nadu and India, #Kalaignar Dr M. Karunanidhi ji.A muti-faceted personality, he was the harbinger of federal politics in India, a saviour of the weakest and deprived, his demise would leave a huge void in Indian politics.
Sachin Pilot, Congress leader
Deeply saddened by the passing away of DMK chief #Karunanidhi Ji. Condolences to the family and supporters. #RIPKalaignar
Sitaram Yechury, Communist Party of India-Marxist general secretary
Karunanidhi rose to be a political and intellectual leader championing social justice and uplift of the poor and marginalised.
Nara Lokesh, Telugu Desam Party leader
A prolific writer who wove magic with words, a leader who is revered by his people, a politician who played a huge role in shaping national politics and a fighter with a writer's heart who always stood for Tamil identity. M Karunanidhi Garu will be dearly missed! #RIPKalaignar
Pon Radhakrishnan, Union minister
His demise is a big loss for Tamil Nadu and the whole country. On behalf of BJP and myself, I pay tributes to Karunanidhi.
With agency inputs