In his first comments after his election, Kovind asserted that protecting the Constitution and maintaining its dignity would be his duty.
IMAGE: Firecrackers were burst and celebrations broke out as soon as it was reported that Kovind had won the election. Photograph: PTI Photo
The rains in Delhi reminded him of his kachcha home in his paternal village, President-elect Ram Nath Kovind said on Thursday and sent out the emotive message that he represented all those getting drenched or sweating it out so they could get a meal.
In his first comments after his election, Kovind, 71, who will be only the second Dalit to occupy the highest constitutional position, asserted that protecting the Constitution and maintaining its dignity would be his duty.
He said he never thought or aspired to be the president but his 'tireless service' to his society and country had brought him to this position.
This sense of tireless service was an 'Indian tradition' and his election as the president was a symbol of the greatness of Indian democracy, Kovind told reporters at his Akbar Road residence.
"It is a very emotional moment for me personally. It is raining a lot in Delhi today and it reminds me of days when I would stay in my paternal village. It was a kachcha home of mud walls. The straw roof would not be able to stop water during rains. We all brothers and sisters would huddle around a wall, waiting for the rains to stop," he said.
"There would be so many Ram Nath Kovinds in the country today, getting drenched in rains, doing farm work, labour and sweating it out so that they can get their evening meals. I want to tell them that this Ram Nath Kovind of Paraunkh village is going to Rashtrapati Bhavan as their representative," the president-elect continued.
His election to a position held by distinguished personalities like Rajendra Prasad, Sarvepalli Radhakrishnan, A P J Abdul Kalam and Pranab Mukherjee had given him a sense of huge responsibility, he said.
IMAGE: BJP supporters celebrate the win of Ram Nath Kovind in the presidential elections in Patna.
Photograph: PTI Photo
An emotional but poised Kovind said his election was a message to all those who were discharging their duties with honesty and integrity.
Citing a Sanskrit proverb, he said he would assure every citizen of the country that he would work relentlessly to serve the country and make everyone happy.
The former Bihar governor and two-term Rajya Sabha member thanked the people of India and elected representatives for showing their confidence in him.
He also sent his good wishes to Meira Kumar, his rival in the election and the Opposition's candidate.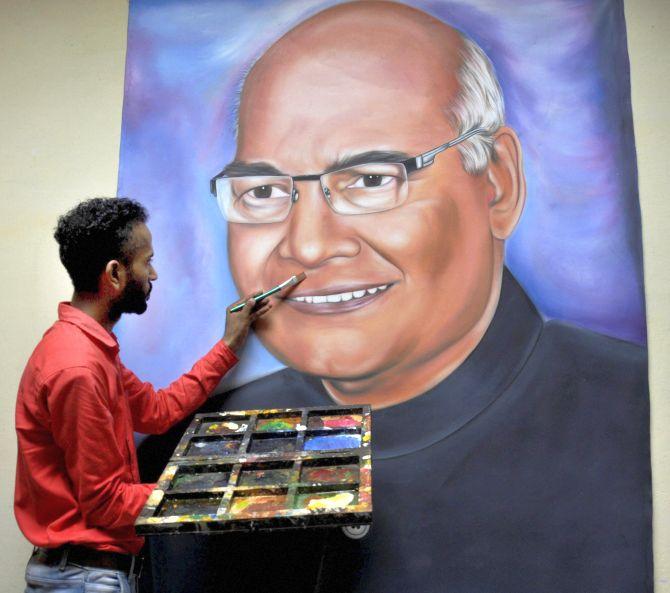 IMAGE: Artist Jagjot Singh Rubal finishing his painting of the newly-elected President of India, Ram Nath Kovind, at his home studio in Amritsar. Photograph: PTI Photo
The 71-year-old Kovind defeated joint opposition candidate Meira Kumar, a former Lok Sabha speaker, after garnering 65.65 per cent of the votes in the electoral college.
Expressing happiness over the 'extensive' support Kovind got from the electoral college, Prime Minister Narendra Modi said, 'Congratulations to Shri Ram Nath Kovind Ji on being elected the President of India! Best wishes for a fruitful & inspiring tenure.'
'Gladdened by the extensive support for Shri Ram Nath Kovind Ji among MPs & across various parties. I thank members of the electoral college,' Modi added in another tweet.
Modi also congratulated opposition nominee Meira Kumar for her campaign, saying it was 'in the spirit of democratic ethos and values we all are proud of'.
A former Bihar governor, Kovind received 2,930 votes with a value of 7,02,044, said election Returning Officer Anoop Mishra. Kumar got 1,844 votes with a value of 3,67,314.
The winning margin was not as big as forecast by the BJP, which had projected a 70 per cent vote for Kovind. Outgoing President Pranab Mukherjee had received votes valued at 7,13,763.
Kovind will be the first Bharatiya Janata Party member to be elected president.
A total of 768 out of 771 eligible MPs cast votes. Likewise, 4,083 out of 4,109 eligible MLAs cast their votes, registering a turnout of nearly 100 per cent.
While 522 MPs voted for Kovind, Kumar secured support of 225 parliamentarians.
While the value of an MLA's vote depends on the population of his or her state, the value of an MP's vote remains the same at 708.
Kovind is the first BJP member to be elected president. He will take oath of office on July 25 for a five-year term.
Kovind's victory is partly due to the BJP's massive victory in the Uttar Pradesh assembly elections earlier this year. This gave the party a big boost in the electoral college numbers.
Even after the UP victory, the BJP-led NDA was slightly short of majority and had to rely on the support of non-NDA parties such as Telangana Rashtra Samiti in Telangana, All India Anna Dravida Munnetra Kazhagam factions and Dravida Munnetra Kazhagam in Tamil Nadu, the Janata Dal-United in Bihar, and the Biju Janata Dal in Odisha.
But the party played a masterstroke by fielding a Dalit candidate as part of its outreach to woo the backward communities, which several opposition parties found difficult to oppose given the political sensitivities.
This forced the opposition to follow suit and put up Kumar, a diplomat-turned-politician, in a Dalit vs Dalit fight.
Among those who congratulated Kovind were Congress President Sonia Gandhi, Lok Sabha Speaker Sumitra Mahajan, a host of chief ministers and other politician.
Soon after, the president-elect met with Modi, who put a piece of sweetmeat in his mouth after putting a stole around his neck, as BJP President Amit Shah looked on.
Hailing as 'historic' Kovind's election, Shah said it is a 'victory for the poor, downtrodden and marginalised and their aspirations'.
| State | Ram Nath Kovind | Meira Kumar |
| --- | --- | --- |
| Andhra Pradesh | 171 | 0 |
| Arunachal Pradesh | 56 | 3 |
| Assam | 91 | 35 |
| Bihar | 130 | 109 |
| Chhattisgarh | 52 | 35 |
| Delhi | 6 | 55 |
| Goa | 25 | 11 |
| Gujarat | 132 | 49 |
| Haryana | 73 | 16 |
| Himachal Pradesh | 30 | 37 |
| Jammu and Kashmir | 56 | 13 |
| Jharkhand | 51 | 26 |
| Kerala | 1 | 138 |
| Maharashtra | 208 | 77 |
| Nagaland | 56 | 1 |
| Sikkim | 28 | 1 |
| Tripura | 7 | 53 |
| Uttar Pradesh | 335 | 65 |
| West Bengal | 11 | 273 |
Wave of joy sweeps Kanpur Dehat after Kovind's victory
As soon as Ram Nath Kovind was declared elected as the 14th President of India, a wave of joy and jubilation swept Jhinjhak in Kanpur Dehat, where his family members and relatives reside.
From burning lamps using ghee, distributing sweets to welcoming guests with 'gulaal' and flowers, a festive spirit permeated the atmosphere in Jhinjhak, 160 km from Lucknow.
Family members of the newly-elected president, who will go to Delhi by train on July 23, have already started buying clothes for the swearing in ceremony.
"The day the name of our uncle was announced, we were confident that he will secure a landslide win in the poll. And now with the results out, we feel proud that he will occupy the highest constitutional post of the country. Our joy know no bounds. We have been celebrating throughout the day. In the evening, we have arranged a fireworks programme," Hemlata Kovind, the niece of the newly-elected president said.
A teacher, Hemlata, says that the feeling of victory is yet to completely sink.
"At times, it becomes very hard to imagine that the uncle in whose lap you spent a significant time during childhood has been elected as the President. Not only our family, but the entire village is celebrating Holi and Diwali," she said.
The teachers of DAV College, where Kovind had studied, said they were proud of his achievement.
"For us it is indeed a glorious moment, as one of the proud alumnus of our college is now going to occupy the top constitutional post of the country," said Amit Kumar Srivastava, principal of the college.