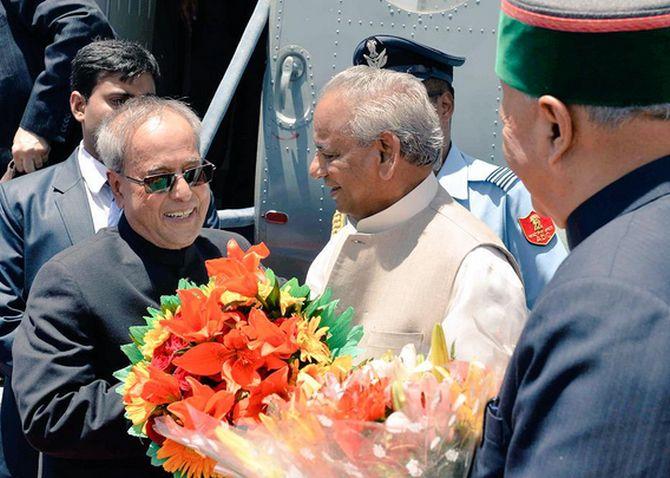 President Pranab Mukerjee was on Thursday accorded a warm welcome as he arrived in the state for his five-day sojourn amid the serene climes of 'The Retreat', surrounded with thick pine forests near Shimla.
Mukherjee landed at Kalyani helipad at Chharabra, 14 km from Shimla, and was received by Governor Kalyan Singh and Chief Minister Virbhadra Singh.
From the helipad, the President drove straight to 'The Retreat', his summer holiday resort in Mashobra, located just 500 m away from the helipad.
He would stay at the colonial-era building for four days and return on June 14.
Located on the hill top of Mashobra, the building was taken over during 1895 by the then Viceroy. The President visits 'The Retreat' at least once a year and the core office shifts to that place during his stay.
He has no official engagement during his stay, except for a cultural programme and banquet being hosted in his honour by the Governor at the Raj Bhawan on June 12.
The President will host a reception for senior dignitaries of the state, ministers and officials on June 14.
Cabinet ministers Vidya Stokes and others, Chief Secretary P Mitra, Director General of Police Sanjay Kumar, Deputy Commissioner of Shimla, Dinesh Malhotra, Shimla SP D W Negi, among others were also present on the occasion at the helipad.
Image: President Pranab Mukherjee received by Governor Kalyan Singh and Chief Minister Virbhadra Singh