Experts say it could make divorces amicable and help reduce court cases, reports Tinesh Bhasin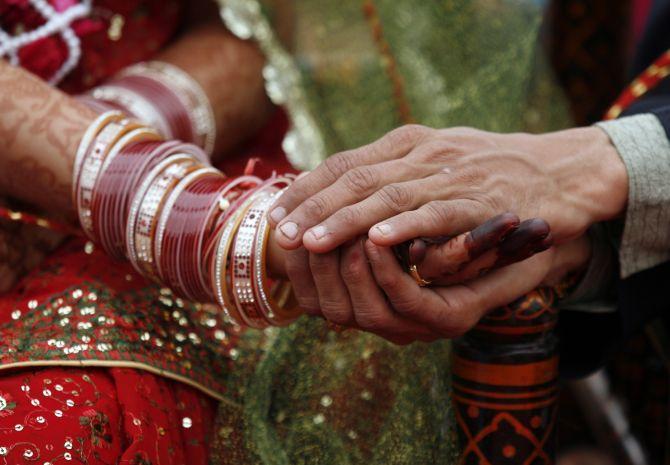 Prenuptial agreements in India might not be legally tenable but, increasingly, families are going for these contracts which state the assets of the bride and groom, and the compensation the woman will receive if the marriage turns sour and the couple legally part ways.
"Families are opting for prenuptial agreements to see the intentions of the parties involved, even though the contract is not legally binding," says senior advocate Mrunalini Deshmukh, who handled divorce cases of many Bollywood celebrities including Aamir and Reena Khan and Karisma Kapoor. She adds that the document is used to tell the court the conditions that the couple had agreed upon when they got married.

And it's not only the wealthy that are drawing up these agreements. Advocate Vandana Shah recently got a couple who asked her to help them draft one such contract. They were both part of corporate world, working in middle management. When she told them it would not have any standing in a court, they said they were making it so that both were clear on the settlement terms if they part ways.

Prenuptials are popular in developed countries such as the United States, Australia, France and Germany. But in India, there are Supreme Court rulings which say any contract which has marriage as an object is null and void. Recently, Maneka Gandhi, minister for women and child development, recommended to D V Sadananda Gowda, minister for law and justice, to make prenuptial agreements mandatory before marriage. The recommendation was made as many women from lower socio-economic backgrounds have to fight endless battles over alimony, marital ownership of property and assets during divorce. Deshmukh says, on an average, divorce cases take four to five years to conclude; but many also drag on for over 15 years. She has a client, who is still fighting a legal battle since 1999.

The idea of legalising prenuptial agreements has many takers. Lawyers say it will help reduce the burden of courts. It will also end husbands and wives taking undue advantage of each other and will keep their expectations in check. Deshmukh feels it will also help solve common reasons for fights or disputes, such as division of property.

Financial planners say it will be a good starting point in a marriage. When drawing a prenuptial agreement, the entire assets, liabilities, business ownerships, among other things, are listed out. This can make both parties aware of each other's finances before tying the knot.

Even if a prenuptial agreement does not become legal in India, there are a few things every couple should follow while managing their family finances to ensure that things don't go awry in case they part ways. Suresh Sadagopan, a certified financial planner, says couples should keep their finances separate and contribute towards expenses in equal proportion. If the husband's salary is Rs 1 lakh and wife's is Rs 50,000. They can equally contribute 30 per cent of their income to family expenses.

Shah says couples should keep their bank accounts separate and all investments should be done through individual accounts. This will not only create a trail, but also make calculation of taxes easy.

When buying property, couples should also take the ownership in the asset in proportion to their contribution, Sadagopan says. If the husband is paying 70 per cent of the equated monthly instalment, he should list his share in that proportion.