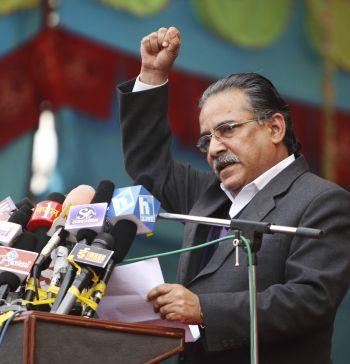 Nepal Maoist chief Prachanda on Tuesday filed his nomination for the election to the post of prime minister to be held on Wednesday that could bring political stability to the country.
Nepali Congress president Sher Bahadur Deuba proposed the 61-year-old Communist Party of Nepal-Maoist Centre president as the candidate for new prime minister, while Maoist leader Krishna Bahadur Mahara seconded it.
The crucial development comes a day after Nepal's President Bidya Devi Bhandari gave a fresh call to all political parties to form a majority government when the deadline given to them for forging consensus expired without yielding any results.
It is learnt that the Parliament has started preparation for beginning the procedure of electing the premier on Wednesday. Speaker Onsari Gharti has called a meeting of the 596-member Parliament for 11 am to elect a new prime minister after embattled premier K P Oli resigned on July 24, triggering a fresh political turmoil in Nepal.
Oli tendered his resignation after two key ruling alliance partners -- Madhesi People's Rights Forum-Democratic and Rastriya Prajatantra Party -- decided to support the no-confidence motion tabled against him by the NC and the CPN-Maoist Centre led by Pushpa Kamal Dahal 'Prachanda'.
The Maoist chief and former premier known for his anti-India stance is expected to become Nepal's 39th prime minister with the support of largest party Nepali Congress, the Madhesis and other fringe parties if there is no dramatic development.
Three Madhesi leaders -- Upendra Yadav of Social Forum-Nepal, Sarvendra Nath Shukla of Tarai Madhesh Democratic Party and Laxman Lal Karna of Sadbhawana Party -- have supported Prachanda's candidacy.
The Madhesi alliance decided to support Prachanda's candidacy after a 3-point agreement with the NC and CPN-Maoist Centre but will not join the government, Karna said.
With the support of the alliance, which has 39 lawmakers, Prachanda's election as the new prime minister has become almost certain.
Meanwhile, the Communist Party of Nepal-Unified Marxist–Leninist has decided not to field any candidate in the prime ministerial election but vote against Prachanda. The party of outgoing Prime Minister Oli decided to remain as the main opposition party.
© Copyright 2022 PTI. All rights reserved. Republication or redistribution of PTI content, including by framing or similar means, is expressly prohibited without the prior written consent.