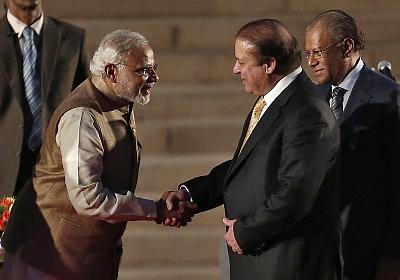 There is a possibility of a meeting between Prime Minister Narendra Modi and his Pakistani counterpart Nawaz Sharif on the sidelines of the annual summit of Shanghai Cooperation Organization in Russian city of Ufa next month with an aim to move forward and normalise ties.
There is a view that Tuesday's telephonic call by the Prime Minister to Sharif has "lowered the temperatures" between India and Pakistan which have been involved in a war of words over Modi's critical remarks about Pakistan during his Dhaka visit recently and in the wake of India's military action in Myanmar.
However, no official request for a meeting has been initiated from either side so far.
Modi had on Tuesday called up Sharif and extended best wishes on the occasion of Ramzan while noting that there was a need for having "peaceful" and "friendly" bilateral ties between the two countries.
In his telephonic conversation, Modi had also conveyed to Sharif India's decision to release detained Pakistani fishermen on the "pious" occasion of Ramzan.
The annual SCO summit will be held in Ufa from July 9-10 and both India and Pakistan are likely to be granted full membership of the China-backed grouping.
India had formally applied for membership of SCO in its summit meeting in Dushanbe last year, saying it was ready to step up engagement with the grouping.
SCO was founded at a summit in Shanghai in 2001 by the Presidents of Russia, China, KyrgyzRepublic, Kazakhstan, Tajikistan and Uzbekistan. India, Iran and Pakistan were admitted as observers at the 2005 Astana Summit.