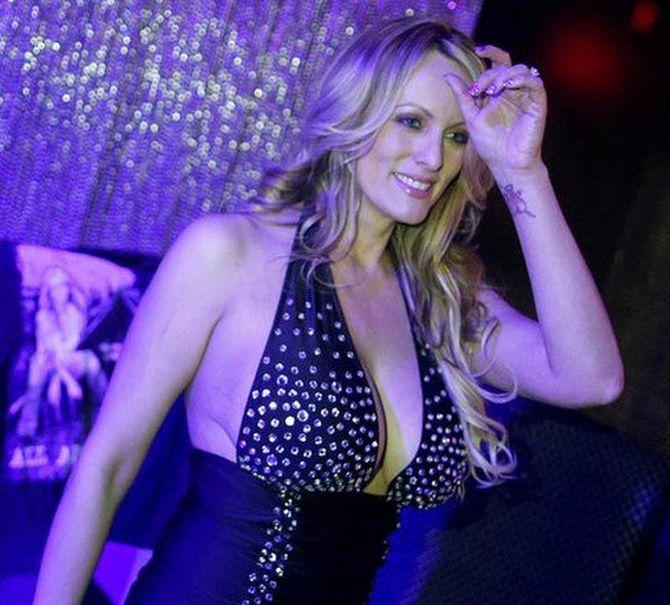 Porn star Stormy Daniels claimed that she was threatened in a bid to keep her silent about her alleged fling with United States President Donald Trump.
In a highly-anticipated TV interview on Sunday, Daniels told Anderson Cooper on CBS's "60 Minutes" programme that she had unprotected sex with Trump once in 2006, and was threatened by a man in a parking lot in Las Vegas when she agreed to tell her story in 2011.
Daniels said that she was on her way to a fitness class with her infant daughter when she was approached by a man.
"A guy walked up on me and said to me, 'Leave Trump alone. Forget the story.' It was then at that point that the alleged threat of physical violence was made, according to her account," Daniels recalled.
The adult star added that the man, whom she could not identify, leaned around and looked at her daughter and said, 'That's a beautiful little girl. It'd be a shame if something happened to her mom."
The experience left her shaking in fear and afraid she would drop her daughter, she added.
Daniels said that fear also motivated her to sign the non-disclosure agreement 11 days before the election in 2016.
She told CBS that she agreed to the gagging contract because "I was concerned for my family and their safety."
"Then in January 2018, after the Wall Street Journal had revealed the existence of the non-disclosure agreement, she signed another document that denied that any affair had taken place -- a statement that she now says was a lie," she added.
Asked by Cooper why she signed a false statement, Daniels replied: "Because they made it sound like I had no choice."
Cooper then asked Daniels if the latter thought there would be legal repercussions if there was no sign to which she answered that "they can make your life hell in many different ways."
Asked who "they" were, Daniels named Trump's personal lawyer, Michael Cohen.
Asked what she would say to Trump if he were watching the interview, she said: "He knows I'm telling the truth."
While Trump has been uncharacteristically quiet about the alleged fling, the White House has denied any sexual encounter between him and Daniels.
Photograph: ANI