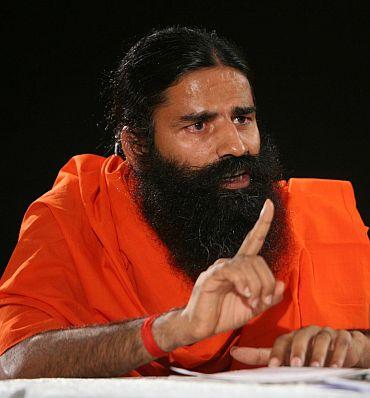 Yoga guru Ramdev, who had declined Padma Vibhushan award, on Saturday said that a lot of lobbying takes place behind the selection of Padma and even Nobel prize awardees and those with political influence succeed.
"The entire world knows that all these awards like Padma Shri, Padma Bhushan or Padma Vibhushan and even Nobel prize are given to good people also, but there is intense lobbying and those having more political influence succeed in getting them," the Yoga guru said in New Delhi.
He was speaking on the sidelines of an event organised by ASSOCHAM to spread awareness about yoga ahead of the first International Yoga Day which will be observed across the world on June 21.
Ramdev was tipped to receive Padma award this year but he wrote to Union Home Minister Rajnath Singh declining the honour, saying he was a 'sanyasi' (ascetic) and considered it his duty to serve the people and the country.
Speaking about the benefits of yoga, he told the gathering that 50 per cent of people in India are forced into debts and mortgage their assets to avail treatment for various diseases.
"Diseases cannot be eliminated through medicines, rather it is the individual who is eliminated. About 50 per cent of people in India are forced into debts and mortgage their assets to avail treatment for various diseases. Yoga is a way out of this quagmire. It would ensure that people of India lived a healthy life without medicines," Ramdev said.
The yoga guru said that he will urge 1O crore families to participate in the International Yoga Day.
"We aim to reduce one crore kilo weight of obese Indians for which we will organise anti-obesity camps throughout the nation," he said.
In his discourse laced with humour, Ramdev also justified charging money for providing Yoga courses and promoting 'swadeshi' line of products.
"Charging money for yoga classes is still better than charging for alcohol and drugs which are harmful to health. Yoga benefits both mind and body. And the herbal products that we offer are for the benefit of the people and not meant for cut throat business," he said.
In a lighter vein, he also said that if "RSS promotes yoga, it will create controversy."
Ramdev also exhibited several breathing exercises, Yoga techniques and asanas.
© Copyright 2022 PTI. All rights reserved. Republication or redistribution of PTI content, including by framing or similar means, is expressly prohibited without the prior written consent.