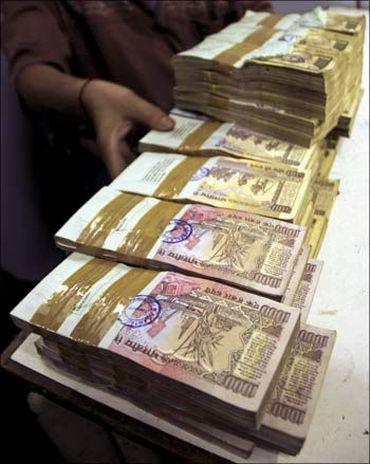 A political slugfest erupted in Karnataka on Friday over a "sting operation" that purportedly showed MLAs negotiating a money deal in exchange for their votes in the biennial elections to four Rajya Sabha seats from the state.
A demand was also made that the Election Commission take appropriate action over the alleged money deal.
As the videos of the "sting operations" aired by two private TV news channels on Thursday brought discomfiture to him over allegations about the ruling Congress' moves to win over MLAs, including from the Janata Dal-Secular to add up to its numbers, Chief Minister Siddaramaiah put up a brave face, saying, "Congress has never done such things, they will never do it also."
The Bharatiya Janata Party and JD-S charged that the chief minister was behind the attempts to woo MLAs.
The footage of "sting operation" by one channel showed a JD-S MLA purportedly talking about money in crores of rupees for supporting a candidate while the one by another channel showed Congress candidate K C Ramamurthy and independent MLAs purportedly speaking about getting enhanced development funds for the constituency by the government in return for votes.
Reacting to the sting operations, BJP state president and former Chief Minister B S Yeddyurappa called Siddaramaiah an "architect" behind these activities.
He said "Chief minister himself is behind it. They are saying Rs 100 crore package will be given to those supporting supporting Congress along with other benefits..; Chief Minister is trying to lure, no one else."
Yeddyurappa demanded that the Election Commission take appropriate action on this issue.
Hitting back, Siddaramaiah reminded that Yeddyurappa was the brain behind "operation Kamala" that was used to weaken opposition parties when BJP was in power in the state.
"Operation Kamala" saw BJP winning over several opposition MLAs who resigned from their party, joined BJP and won elections on its ticket that helped it secure comfortable
majority in the assembly. "Such things were started by Yeddyurappa, who did
operation Kamala? It is he who started such things. Congress has never done such things, they will never do it also," Siddaramaiah told reporters.
He said "no such thing has happened from our side... all of them whose names have appeared in the sting operation have denied it. Whether such thing has happened or
not I don't know. How can I react."
Former Prime Minister and JD-S supremo H D Deve Gowda said "Chief Minister who has grown from my party is doing this to finish the party."
JD-S, which is facing embarrassment as its MLAs and in some cases their relatives are purportedly seen discussing about money ranging from Rs five to 10 crore in exchange for votes, alleged that Siddaramaiah is behind the stings to "finish" the party.
Deve Gowda also blamed party's dissident MLAs Zameer Ahmed and Cheluvarayaswamy for hobnobbing with Siddaramaiah.
"The intention of Siddaramaiah is to destroy JD-S, this is the intention of D K Shivakumar (power minister) also...."
Deve Gowda's son and Former Chief Minister H D Kumaraswamy said JD-S MLAs were only testing those who had come to negotiate money in exchange for votes.
He said "Mallikarjuna Kuba (JDS MLA) discussing about Rs 5 crore and 10 votes....after looking at the discussion (in the video) my opinion is--he purposely said that to fool
media persons who had gone for the sting operation.
"If some one comes and asks an MLA will you get me 10 votes and money in exchange for it....I think he was aware about the sting operation and spoke the way he did purposefully," he added.
Kumaraswamy said similar is the case with (JD-S MLA) G T Devegowda's video, as those who had come for sting operation had introduced themselves as reporters from Delhi.
Congress has fielded three candidates Jairam Ramesh, Oscar Fernandes (former Union ministers) and former IPS officer Ramamurthy for the Rajya Sabha polls scheduled for
June 11. BJP and JD(s) have fielded Union Minister Nirmala Seetharaman and B M Farooq, respectively.
Congress decision to field the third candidate, Ramamurthy, has given tense moments to JD-S, which needs five additional votes to see its candidate through, as it has 40
members. The required strength for victory is 45 votes.
To the JDS discomfiture, five of its MLAs, including Zameer Ahmed, have reportedly decided to back the third candidate of Congress, which is sure of two seats but falls short of numbers for the third candidate.
Congress has 122 MLAs and needs extra 13 votes to ensure the victory of its third candidate, with chief minister seeking the support of 11 independents and five JDS rebel legislators.
BJP is also short of one vote but is confident of making up the shortfall.