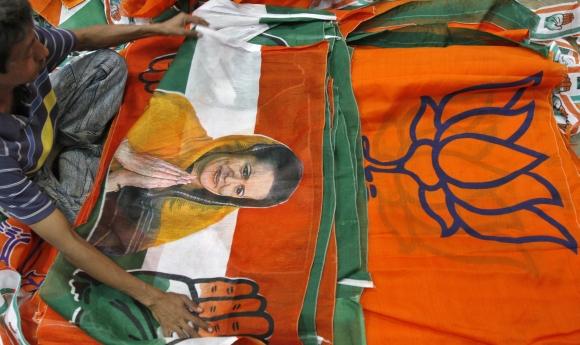 Political parties should not be brought under the ambit of the Right to Information Act by terming them 'public authorities', as this would not only hamper their smooth working but help political rivals to file pleas with malicious intention to seek information, the government told the Supreme Court on Monday.
When the RTI Act was enacted, it was never visualised that political parties would be brought within the ambit of the transparency law, the department of personnel and training said in an affidavit in the apex court.
The affidavit, filed through an under secretary, said there were provisions in Representation of the People Act 1951 and the Income Tax Act which brought necessary transparency about the financial aspects of a political party.
The government's affidavit came in response to a notice issued to it on a plea to declare all national and regional political parties, including the Bharatiya Janata Party, Congress and Left parties among others, "public authorities" to bring them under the ambit of the RTI Act.
The government maintained that the Central Information Commission had made a "very liberal interpretation" of section 2(h) of the RTI Act, which has led to an "erroneous" conclusion that political parties are public authorities.
"I further submit that during the process of enactment of the RTI Act, it was never visualised or considered to bring the political parties within the ambit of the said Act. If the political parties are held to be public authorities under the RTI Act, it would hamper their smooth internal working," the affidavit said.
"Further, it is apprehended that political rivals might file RTI applications with malicious intentions to the CPIOs of political parties, thereby, adversely affecting their political functioning," it said. "Declaring a political party as public authority under the RTI Act would hamper its smooth internal working which is not the objective of RTI Act and was not envisaged by Parliament under the RTI Act," it said.