Riding on its development agenda, the Arvind Kejriwal-led Aam Aadmi Party was on Tuesday set for a resounding victory in the Delhi assembly elections to retain power for a third term.
Here's how leaders reacted to the impending victory.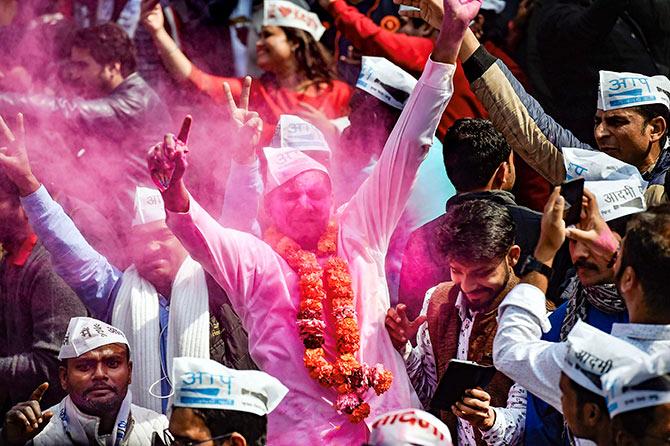 "I congratulate Arvind Kejriwal and the people of Delhi for AAP's victory in #DelhiPolls2020. People have shown that the country will be run by 'Jan Ki Baat', not 'Mann Ki Baat'."
-- Maharashtra CM Uddhav Thackeray
"Janta malik hai"
-- Bihar CM Nitish Kumar
"Congratulations @ArvindKejriwal as #DelhiResults show @AamAadmiParty all set to win DelhiElection2020 with a thumping majority yet again. Leaders playing on faith through hate speech & divisive politics should take a cue, as only those who deliver on their promises are rewarded."
-- West Bengal CM Mamata Banerjee
"AAP won, bluff and bluster lost. The people of Delhi, who are from all parts of India, have defeated the polarising, divisive and dangerous agenda of the BJP. I salute the people of Delhi who have set an example to other states that will hold their elections in 2021 and 2022."
-- Congress Rajya Sabha MP P Chidambaram
"The Delhi poll results indicate 'winds of change' blowing in the country. The results are not surprising to me."
-- NCP chief Sharad Pawar
"I accept the result. We will work hard and give a better performance in the next elections. If this election would have been on education and development, then Education Minister (Manish Sisodia) would not have been trailing."
-- BJP MP Parvesh Varma
"We accept #DelhiElectionResults and congratulate Arvind Kejriwal & the people of Delhi. We tried our best but, probably, we could not convince the people of the state. I hope Delhi develops under the chief ministership of Arvind Kejriwal."
-- BJP MP Gautam Gambhir
"Most Indians are still socially liberal and politically intelligent and are against those that drag religion, which is such a personal issue into politics, for political gains. It is also an auspicious sign and healthy message for the peace and development of the country."
-- Samajwadi Party chief Akhilesh Yadav
"Congratulations to @ArvindKejriwal and @AamAadmiParty on a resounding victory in Delhi elections. Let this victory be a harbinger for pro-people and inclusive politics in our country."
-- Kerala Chief Minister Pinarayi Vijayan
"Congratulations @ArvindKejriwal @AamAadmiParty and the people of Delhi who have given a befitting reply to BJP's politics of hate and violence. Union ministers called for 'gaalis' and 'golis'. People have given their answer."
-- CPI-M general secretary Sitaram Yechury
"Heartfelt congratulations to @ArvindKejriwal @AamAadmiParty. People of Delhi have showed that "fascist ideology" will never win their hearts. Congratulations to AAP and voters of Delhi for testifying that successful politics with development as criteria (to win polls), amidst money and muscle power."
-- Former Karnataka Chief Minister H D Kumaraswamy
"We are not at all disappointed, people have given their mandate (for AAP). The biggest message is for the BJP that poisonous campaign and statements will not work."
-- RJD leader Manoj Jha