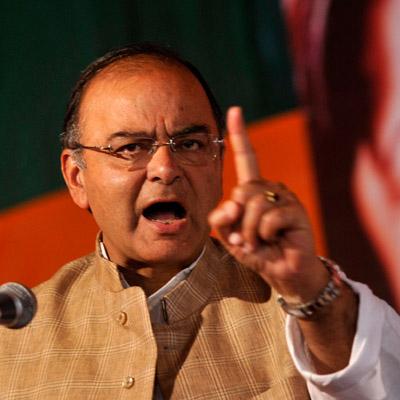 Amid frequent face offs between the government and opposition, Finance Minister Arun Jaitley on Wednesday said political discourse in the country has become "more vulgar".
"Though extremely popular to say, the anti-corruption law must be made more and more stringent and more and more unreasonable. That is the more popular way these days in politics, particularly when political discourse also tends to become more vulgar," Jaitley, under fierce opposition attack over alleged irregularities in Delhi's cricket body, said delivering the annual Intelligence Bureau lecture.
Jaitley's comments came amidst the ongoing tussle between the Arvind Kejriwal government and the Centre over alleged corruption in the Delhi and District Cricket Association where he was the president for about 13 years till 2013.
Suspended BJP MP Kirti Azad too alleged there were financial irregularities in the DDCA when Jaitley was at its helm.
Jaitley has refuted the allegations and filed civil and criminal defamation cases against five AAP leaders, including Kejriwal.
About "continuing mandamus", Jaitley said the whole idea behind the move was to make sure that investigating agency does its job.
"This process has gone on for two decades and you have cases of economic offences which are investigated by several agencies, state police, CBI and other agencies which requires an introspection and analytic view, a continuing mandamus alerts the investigation," he said.
Continuing Mandamus is a writ of Mandamus issued to a lower authority by the higher authority in general public interest asking the officer or the authority to perform its task expeditiously for an unstipulated period of time for preventing miscarriage of justice.
The finance minister said there are not too many cases in which investigating agencies in a case involving continuing mandamus have ended investigation in favour of the accused.
"The golden rule which most investigating agencies follow is that if a court is conducting a continuing mandamus, it is easier to file a charge sheet and let the court decide whether evidence exists or not," he said.
Therefore, Jaitley said, after 20 years of this experiment, a call has to be taken, including by the courts, whether the imbalance between a fair investigation and rights of the accused have been created by an institution of continuing mandamus.
It is an instrument which can be used rarely in cases where there is reason to apprehend that an honest investigation is not being carried out.
"To make continuing mandamus a regular practice, may have a tendency to create an imbalance in the criminal jurisprudence due to the reasoning adopted in the judgement of cases," he said.
The Finance Minister said successive governments have achieved success in relaxing rules and regulations for businesses and now there is no need to visit central government offices to get clearance.
"Sitting in North Block or somebody sitting in Udyog Bhavan (where finance and industries ministries are located) where licensing used to take place. I think one of the great successes of governments over the years are that big businesses don't have to visit New Delhi. They don't need to take licence from New Delhi," he said.
Jaitley said environmental permissions are granted or refused depending on each case, files are not carried over to other states as it becomes excessively corrupt where there are discretions.
He said real estate development in India and tackling municipalties and local bodies continues to be a nightmare.
"I personally had a meeting with urban development ministry and presented to them my proposal that world over when cities are planned or areas planned, you determine the environmental norms, why must individual building then go for environmental clearance.
"Now, I think, it is globally replaced by architect's certificate as a launching pad for construction and municipalty comes only when you are required certificate for completion or occupancy," he said.
If it is one sector which is capable of adding hugely to our economy and GDP, it is the real estate, he said.