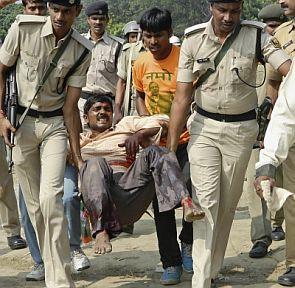 After the family refused to claim the body of Ainul Ansari alias Tarique, a suspect in the serial bomb blasts in Patna who succumbed to his injuries at a hospital, the railway police has decided perform his last rites in a day or two, police officials said on Monday.

Patna Rail Superintendent of Police Undendra Kumar Singh said that with Ainul's father refusing to take custody of his son's body for last rites, the police will have to go for his burial as per religious rituals.

Ainul, who was seriously injured in a bomb explosion at the Patna railway station, died on late Thursday night at the Indira Gandhi Institute of Medical Sciences due to brain injuries.

Ainul's body is kept at the mortuary of the Patna Medical College and Hospital under the custody of the Government Railway Police.

Ainul's father Ataullah Ansari, 70, a resident of Dhurva in Ranchi, Jharkhand, had publicly declared last Friday that he will not take custody of his son's body. "Islam does not give permission for terrorism. If Ainul was involved in a terror act he is not my son. So where is the question to claim his body," he had said.
Singh said that rail police has kept the body for 72 hours in the mortuary since Friday before his last rites would be performed as per his religious faith.

"If any one from his family turns up Sunday, we will hand over the body. In case no one claim his body, the last rites would be performed Monday/Tuesday as per religious rituals by a Muslim organisation known for burial of unclaimed bodies," Singh had said.
Ainul's postmortem was conducted by a medical board and videographed.

Arun Kumar, director of IGIMS where Ainul was admitted with splinter injuries to his brain, said that after battling for life for over five days he succumbed.

According to police officials, Ainul was admitted to the hospital in Patna as he was found crying in pain near the railway station toilet after the bomb exploded when he was allegedly trying to fix it or fit a timer.

Six people were killed and nearly 100 injured in seven bomb blasts in Patna on October 27. Six of the seven blasts took place at the Gandhi Maidan before Bharatiya Janata Party's prime ministerial candidate Narendra Modi was to address a rally. The seventh explosion was at the railway station.
Image: Police carry an injured victim after serials blasts rocked Patna's Gandhi Maidan
Photograph: Reuters