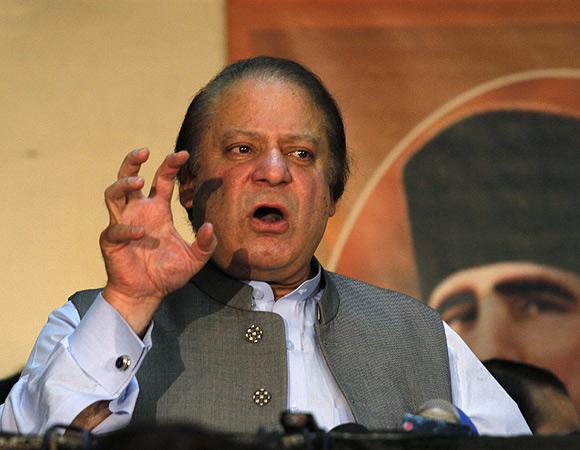 A murder case has been registered against Pakistan Prime Minister Nawaz Sharif, his ministers and other top officials for their alleged involvement in the killing of anti-government protesters here, police said on Wednesday.
The case was registered on Tuesday night after a district judge ordered framing of murder charges against Sharif and others over the killing of protesters, the second criminal case to be filed against the embattled PM.
Pakistan Awami Tehrik, led by fiery cleric Tahirul Qadri, had approached the court for registering of case.
At least three people were killed and over 500 injured in clashes with police on August 30 after the populist cleric and Pakistan Tehreek-e-Insaaf chief Imran Khan asked their supporters to march toward the official residence of Sharif.
A police official from the Secretariat police station said that the case was registered after the district and sessions judge on Monday "ordered us" to register the case while disposing of a petition filed by Qadri.
He said Section 302 of Pakistan Penal Code (intentional murder) and Section 7 of the Anti-Terrorism Act were also included in the case.
It was the second murder case against Sharif after one was filed last month in Lahore for killing of 14 workers of Qadri in clashes with police in June.
The nomination of a person in a case does not affect his legal status but conviction makes people ineligible for any public office in Pakistan.
Khan wants Sharif's ouster over alleged rigging in last year's poll which his party lost, while Qadri wants to bring a revolution in the country. They are agitating since August 14, demanding Sharif's ouster.