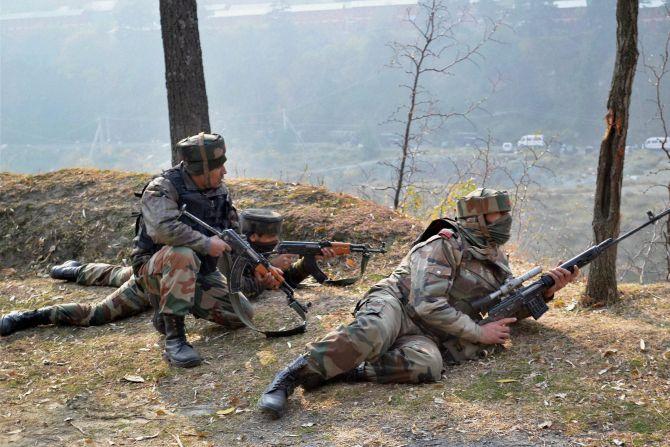 An assistant sub-inspector was wounded after militants opened fire on a police party in Pakherpora. Mukhtar Ahmad/Rediff.com reports from Srinagar.
A police officer and two civilians were injured when militants attacked a police party at Pakherpora in south Kashmir Budgam district on Thursday afternoon.
The attack came on a day when the union home minister, Rajnath Singh is arriving in the valley to review the states security situation.
A senior police officer said, militants opened fire at a police party in Pakherpora after the congregational prayers, on the last Friday of holy fasting month of Ramadan.
"An assistant sub-inspector of the state police and two civilians were injured. They were evacuated to hospital for treatment," the officer said. He said the condition of the police officer was critical.
Earlier in the day a grenade was lobbed at a police post in south Kashmir Anantnag town which, however, caused no loss of life or property.
Militant attacks have registered a sharp rise in past one month in the valley. The state government on Thursday said that security forces and police were on high alert in the valley.