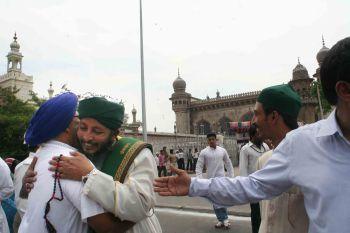 The Hyderabad city police has decided to lift the day curfew in the jurisdiction of 25 police stations from Saturday.
Police Commissioner A K Khan said there would no curfew from 5 am to 10 pm from Saturday, as the situtation in the Old City had improved.
However, the night curfew will continue for a few more days, he added.
Curfew was imposed in 17 police stations of Old City of Hyderabad on March 29 and in eights police station limits of the New City on March 30 after the outbreak of communal violence.
Three people were killed and more than a hundred others were injured in the violence, which continued for four days.
Security was tightened in the Old City in view of the prayers on Friday, but the day passed off smoothly.
Meanwhile, the police have picked up Telugu Desam Party corporator and a member of Hindu Vahini Raja Singh, who was wanted in connection with the outbreak of communal violence in the Old City, sources said.
Though Singh had offered to surrender a few days ago, the police did not accept it, as it wanted to question him about the conspiracy and the people behind the riots.
The police are looking for another Bharatiya Janata Party corporator M Vaikuntam as he was also suspect in the violence.
Image: Religious leaders greet each other on Friday morning in the Old City of Hyderabad | Photograph: Snaps India