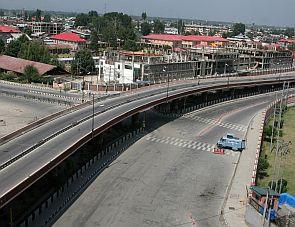 Curfew was imposed in the Srinagar and other parts of the Kashmir Valley a day after four people were killed and 40 others wounded in security force firing at Gool in Ramban district of Jammu region.
Condition of at least eight injured continues to be critical.

The injured are undergoing treatment in hospitals in Srinagar and Jammu, and the district headquarters of Ramban.
The trouble in the Dharam village near Gool of Ramban district in Jammu region erupted after hundreds of protestors protesting alleged desecration of a mosque and beating of an Imam attacked a paramilitary Border Security Force camp in the area Thursday morning.
The bodies of the four villagers killed in the firing were buried in the village graveyard on Friday morning.
The fresh batch of Amarnath bound pilgrims was not allowed to proceed towards the Valley because of the closure of the Jammu-Srinagar national highway.
The pilgrims who had reached the two base camps, Baltel in north Kashmir and Pahalgam in south Kashmir were, however, allowed to proceed towards the cave shrine in the morning.
The highway was blocked by protestors at several places on Thursday.
Heavy reinforcements of police and paramilitary, Central Reserve Police Force were moved into Srinagar early Friday morning to enforce the curfew and to pre-empt eruption of protests after the Friday prayers.
The security forces have erected barricades using coils of razor fitted wire to block pedestrian and vehicular movement in the old city and in uptown areas of the capital city.
The divisional administration announced the decision to impose the valley wide curfew Friday morning 'to maintain the law and order after assessing the situation' at a high level meeting.
"No movement is being allowed in our area. We are confined to our homes. There is heavy presence of security forces in the locality," said Javed Ahmad a resident of old city.
Authorities suspended internet services across the valley Thursday evening. However, internet services on the BSNL landlines are functional though with a marked-down speed.
Hardline separatist leader Syed Ali Shah Geelani has called for a three day long shutdown in the valley while moderate All Parties Hurriyat Conference chairman Mirwaiz Moulvi Umar Farooq asked people to hold protests after the Friday prayers and observe a shutdown on Friday.
Pro-independence Jammu and Kashmir Liberation Front chairman Yasin Malik was detained by the police while leading a protest march in city centre Lal Chowk on Thursday