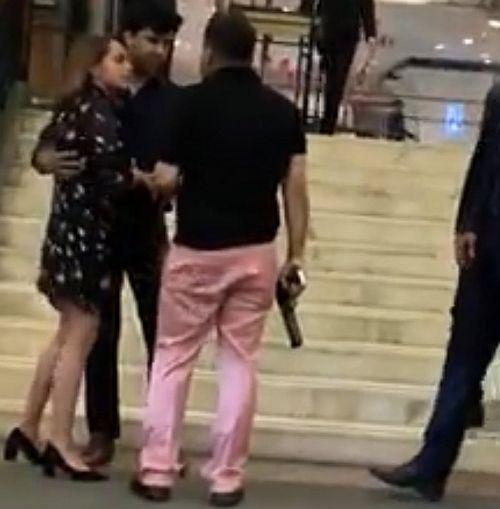 Delhi and Uttar Pradesh police teams raided several places on Wednesday in pursuit of a politician's son, who is elusive after brandishing a gun at a five-star hotel in New Delhi, even as a court issued a non-bailable warrant against him.
Ashish Pandey, son of former Bahujan Samaj Party MP Rakesh Pandey, had pulled out his gun at Hyatt Regency hotel early Sunday to threaten Gaurav Kanwar, son of an ex-Congress MLA.
A UP Police officer said Pandey, a realtor from Lucknow, held licences for three firearms, which have now been suspended.
Kanwar has said in his statement to Delhi police that Pandey pulled out his gun and shouted, "I will kill you" which "scared" him to the extent that he did not approach them.
A video of the incident had gone viral on social media, triggering a massive public outrage and prompting Delhi police to step in and launch a hunt for Pandey, who has since been untraceable.
In the video, Pandey is seen in confrontation with two other guests in the foyer of the hotel.
"Raids have been carried out at various places associated with Ashish Pandey and we will be able to make the arrest soon," Uttar Pradesh Additional Director General (Law and Order) Anand Kumar said.
Ambedkar Nagar Superintendent of Police Vipin Kumar Mishra said Pandey held all-India licences for a .32 bore pistol, a .12 bore double-barrel breech-loading gun and .315 bore rifle.
The licences have been suspended and the notice has been delivered at his address in Akbarpur Kotwali police station area, District Magistrate Suresh Kumar said.
An officer from Delhi police said the three women, who were accompanying Pandey and were involved in triggering the incident, were yet to be identified.
Police said they are conducting raids in Lucknow, in eastern Uttar Pradesh including Jalapur, the constituency of his MLA brother Ritesh. His friends, family and relatives are being questioned to gain clues to his hideout.
Delhi Police obtained a non-bailable warrant against him and also issued a show-cause notice to the hotel for alleged negligence.
ADG Anand Kumar said the licence for the weapon brandished by Pandey at the Delhi hotel was issued in Ambedkar Nagar in 1999.
Anand said he is not aware if there is any other case lodged against Pandey in Uttar Pradesh, but more information is being gathered.
According to Kanwar, he was abused by some people when he escorted his woman friend to a hotel washroom when she took ill during dinner.
When the two were waiting for their car at the hotel foyer, Pandey and his friends again approached them.
"I will kill you," Pandey allegedly told him.