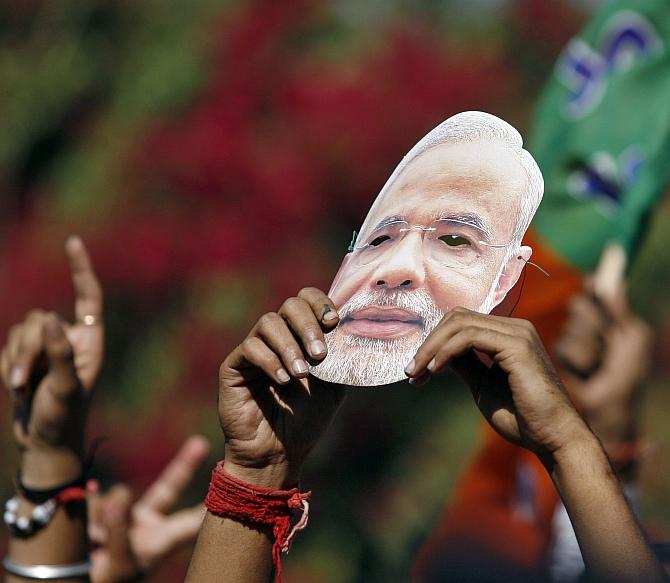 Shiv Sena on Thursday said Prime Minister Narendra Modi's plain-talk on zero tolerance against religious discrimination was not aimed at "pro-Hindutva" forces and suggested that he might have on his mind those "bigots" who convert Hindus to their respective faiths by "deception".
"The PM has taken a strong view against extremists by saying that communal intolerance will not be accepted. But the question is for whom these comments were meant for. Modi's statement is projected as it is meant for 'anti-Hindutvavadis' (pro-Hindutva forces) in certain sections. But, we don't think that Modi had only Hindutvavadis in mind when he made those comments," Sena said in its party mouthpiece Saamna.
Modi had recently asserted that he won't tolerate any discrimination or violence against any community and termed anti-minority comments by some Sangh Parivar leaders as "unfortunate" and "uncalled for," which is viewed as his strongest response so far on growing incidents of hate speeches.
"Hindutva is a culture and it should not be overzealous. But at the same time to convert tribal and poor Hindus to Islam or Christianity by allurement is also terrorism. Modi's plain-talk is for such bigots," the editorial said.
It said the Hindutva forces were very much active under the previous Congress regimes as well. "Had it not been so the Babri mosque could not have been demolished. Because of this Hindutva wave only the Bharatiya Janata Party could achieve its current position of power," the editorial said.
Sena said Modi's assertion also applies to those who convert tribal and poor Hindus to Islam or Christianity "by deception."
The editorial said the recent attacks on churches opened Modi to criticism from Christian community across the globe. "However, the real reasons behind attacks on churches and who were the culprits are still unknown. If these attacks (on churches) happened due to conversion row then Modi's message was also for those who are indulged into conversion," it said.