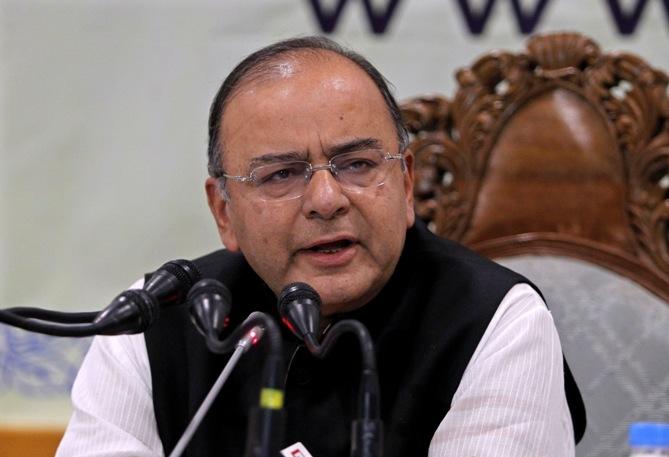 Offering an olive branch to the Opposition to get the GST bill passed, Finance Minister Arun Jaitley on Thursday said that Prime Minister Narendra Modi is willing to speak to everyone to get the landmark indirect tax law through.
Jaitley, who needs Parliament approval for the Goods and Services Tax Bill in the winter session to roll out the new indirect tax regime from planned April 1, said he has spoken to "almost all Congress leaders" on the issue.
"We have absolutely no hesitation even at the level of the prime minister, we have never had in it in the past, we don't have it (now). He is willing to speak to everyone," he said.
He was asked about Congress Vice President Rahul Gandhi's charge that Prime Minister does not pick up phone to speak to Sonia Gandhi like the then Prime Minister Manmohan Singh who used to engage with him as leader of the opposition in Rajya Sabha and Sushma Swaraj of Lok Sabha.
"I have personally discussed with almost every leader of the Congress party, more particularly in Parliament and I am emphasising the word every leader of the Congress party," Jaitley told Times Now news channel.
He hoped that since the Congress party has been "rightly claiming" that the GST is their proposal and they moved it, "I am certainly willing to discuss it with them."
"I am willing with an open mind and positively willing to discuss with the Congress party and also with the other political parties" the validity of three demands presented by the Congress party, he said.
The Congress had stalled passage of the GST Constitution Amendment Bill in the last session of Parliament over its demand that a revenue-neutral rate not higher than 18 per cent be mentioned in the Constitution Amendment bill. It is also opposed to states being given powers to levy additional 1 per cent tax on supply of goods over and above GST rate.
"I quite agree with the Congress party leadership when they say that a solution has to be found by way of discussion. That is the correct position. We are willing to discuss with them and try and find the best possible solution," he said.
Jaitley however added a caveat that "in the process of a political compromise, India cannot have a GST with a flawed architecture. Once you amend the Constitution, it is going to take decades to correct those errors."
Asked if he has spoken to Rahul Gandhi on the GST bill, Jaitley said, "Why should I make public any discussion I have had. I am at a stage where I am discussing with every leader of every political party and I am not supposed to disclose what conversation took place. You should be interested in eventual result."
He said he was "extremely hopeful" of the GST bill being passed in the month-long winter session of Parliament that begun on Thursday.
Parliamentary Affairs Minister M Venkaiah Naidu expressed similar hope claiming 30 of the 32 parties are in support of the GST bill.
"We are making efforts for its passage. The public mood is almost one-sided in favour of the GST," he said. On the Congress objections to GST Bill, Jaitley said the three changes being sought by the party are an afterthought.
"These objections did not dawn on the United Progressive Alliance government when Pranab Mukherjee then as the finance minister presented the bill.
These three objections did not dawn on them when P Chidambaram, as his successor, had accepted the recommendations of the standing committee where even Congress members unanimously agreed to those recommendations," he said.
The three objections did not find a place in the Empowered Committee of State Finance Ministers where all Congress ruled states were in agreement with the Centre.
"It is obviously an afterthought. And then to say that we have not discussed with the opposition... I have discussed, and I say this without fear of contradiction, with almost every leader of the Congress party," he added.