Prime Minister Narendra Modi on Tuesday visited the Sivagiri Mutt, a revered spiritual centre established in Varkala, Kerala by the renowned 20th century saint-social reformer Sree Narayana Guru, and paid respects at his samadhi.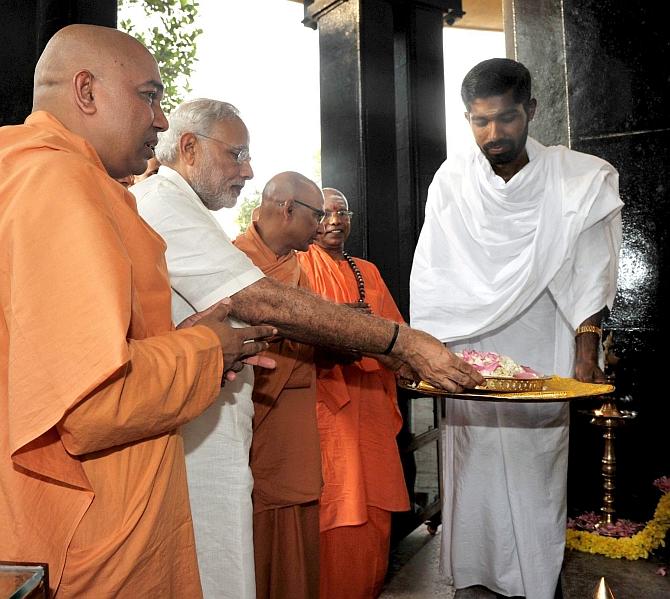 Accompanied by a group of sanyasins of the mutt, Modi spent about a few minutes at the Sivagiri hillock, located around 50 kms away from Thiruvananthapuram, and offered obeisance at the 'maha samadhi mandapam', the final resting place of the legendary Guru.
The prime minister also touched the feet and took the blessings of swami Prakashananda, Sree Narayana Dharma Sangham Trust president and the senior-most swami of the mutt.
In a brief speech at the Mutt, the Modi said he was happy to get the blessings of this 'pavitra sthal' (holy place) and that of saints here which has given him strength to work for the Dalits, backward and marginalised sections of the society.
A quality of the Hindu religion was that whenever there is lot of evil prevailing, great people are born to save the society. Narayana guru had awakened and united the people to fight against untouchability and other ills in the society, he said.
Modi also remembered the contributions of Adi Sankara, the early eighth century philosopher, who consolidated the doctrine of 'Advaita' philosphy.
Established by Narayana Guru who propagated the message of 'One Caste, One Religion and One God for Mankind', the Sivagiri Mutt is a major spiritual-cum-pilgrim centre of the backward Ezhava community in Kerala.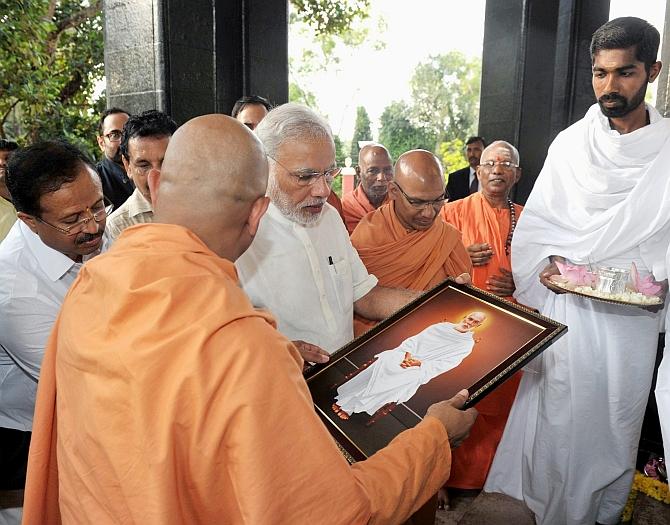 Modi, on his maiden visit to the Mutt after becoming prime minister, planted a sapling at the campus.
He also unveiled a bilingual plaque of 'Daiva Dasakam', a universal prayer song penned by Guru, to mark the centenary of its composition.
The prime minister went round the 'Vaidika Mutt' in the Sivagiri campus, a more than 100-year-old building where Mahatma Gandhi and Rabindranath Tagore had met the Guru.
He also offered prayers at nearby Sarada Mutt, a temple, dedicated to Goddess Sree Sarada (the Goddess of Knowledge), which had been consecrated by Guru.
Modi had earlier visited Sivagiri in April, 2013 when he was Chief Minister of Gujarat.
AICC chief Sonia Gandhi is scheduled to visit the Mutt later this month as part of the annual Sivagiri pilgrimage.
Images: Prime Minister Narendra Modi pays homage to Sri Narayana Guru during a visit to Sivagiri Mutt in Varkala, Kerala on Tuesday. Photograph: PTI Photo