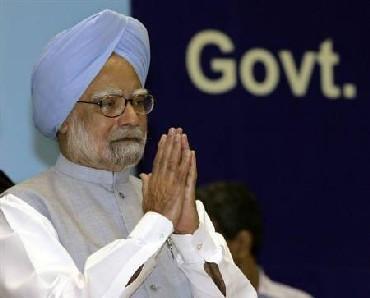 Work on a 2,800 MW nuclear power plant in Haryana will be kickstarted on January 13 when Prime Minister Manmohan Singh lays the foundation stone for it. The plant in Fatehabad district will have four units, each of 700 MWs, at the cost of Rs 22,000 crore.
The construction will be taken up in two phases. The first phase will cover two units which are to be completed in 60 months from the start of construction. The next two units are to be completed four years later.
Haryana Chief Minister's son and Rohtak Member of Parliament Deepender Singh Hooda said here today that the nuclear plant will give new direction to the development of the state.
He slammed the opposition parties for protesting the setting up of the nuclear plant. "Opposition parties only protest for the sake of protest. Priority of the Haryana government is the development of the state," he said.
Hooda was speaking on the conclusion of Haryana Vikas Sandesh Yatra. The Yatra is being taken out every year for the last seven years to highlight the information about welfare policies, schemes and programmes of the state government.
The prime minister had last week laid the foundation stone of the Global Centre for Nuclear Energy Partnership in Jhajjar, which will be the first GlobalUniversity dedicated to nuclear sciences where there will be a nuclear research centre of international importance.
Five countries -- the United States, the United Kingdom, Russia, France and India will be participating in it and the Centre will be constructed in an area of about 225 acre and will cost about Rs 800 crore. Under this Centre, five colleges related with nuclear science research will be established, he said.
© Copyright 2021 PTI. All rights reserved. Republication or redistribution of PTI content, including by framing or similar means, is expressly prohibited without the prior written consent.