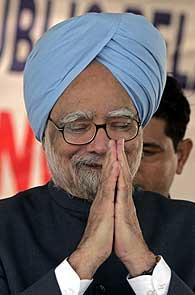 Prime Minister Manmohan Singh will travel to Guwahati to file his nomination papers for a fifth term in the Rajya Sabha on May 15.
The election is scheduled for May 30.
The Congress can file its nomination for two Rajya Sabha seats from Assam. The name of the second candidate is still to be finalised.
Assam Chief Minister Tarun Gogoi, who is currently in Delhi, is expected to hold consultations with the Congress leadership on the issue. He had met Prime Minister Manmohan Singh on Wednesday night.
It may be recalled here that the PM had attracted immense media attention when he refused to rule out the possibility of taking over the premier's post for a third term, if the ruling Congress won the Lok Sabha election next year.
In response to a question by Rediff.com's Sheela Bhatt, Dr Singh had said, "These are hypothetical questions. We will cross that bridge when we reach there."
Congress leaders had lost no time in downplaying the PM's remarks, with spokesperson Rashid Alvi claiming that the people of India want party vice president Rahul Gandhi to be the prime minister.
Union minister and Congress leader Rajiv Shukla remarked that the prime minister had said nothing to suggest he was ready for a third term.
He may or may not be ready for another five years in the PM's post, but Dr Singh is definitely headed for another stint in the Upper House.