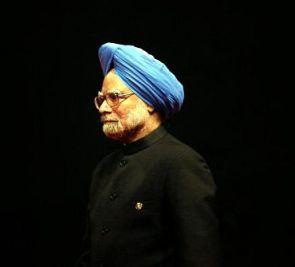 Facing CBI charges of conspiracy and corruption in coal blocks allocation, former Coal Secretary P C Parakh on Wednesday asserted that Prime Minister Manmohan Singh was the final decision maker and must be counted as a "conspirator", prompting BJP to demand a through probe.
Industrialist Kumar Mangalam Birla, Parakh and others have been booked by CBI in connection with alleged irregularities in the allocation of two coal blocks in Odisha eight years back.
After registering the fresh FIR with a CBI court, agency teams carried out coordinated searches at nearly six locations in Mumbai, Delhi, Hyderabad and Bhubaneshwar which included offices of Hindalco and residence of Parekh in Sikandarabad, Hyderabad.
Dubbing the allegation against him as baseless, Parakh said he saw nothing wrong in the government decision.

"There is absolutely nothing wrong with the decision. It was a very fair and correct decision that we took. I don't know why CBI thought that there is a conspiracy," Parakh said.
"But, if there is a conspiracy, then there are different members in this conspiracy. There is K M Birla who made the representation, he is one conspirator. I, who examined the case and made a recommendation, I can be another conspirator and the Prime Minister, who as the Coal Minister, took the final decision, is the third conspirator.
"So, if the CBI thinks there is a conspiracy, why did they choose and select Mr.Birla and me and not the PM. If conspiracy is there, then everyone is part of the conspiracy," he told television channels, adding that after Shibu Soren resigned as coal minister, the prime minister had then directly taken charge of the ministry.
BJP came out all guns blazing following Parakh's remarks, saying "Accountability of the Prime Minister and the PMO is equally important. Therefore, we demand a fair investigation."
Parakh's statement "merits serious consideration," BJP deputy leader in Rajya Sabha Ravi Shankar Prasad said.

Describing Parakh as an upright IAS officer, BJP leader Yashwant Sinha said, "The time has come for Parekh to speak up. He has spoken a little, he should come out clean now, make public statements of how files were disposed off at that time (when the PM was in charge of the Coal Ministry).

"...how chits were received from Congress party headquarters in the PMO and PMO transmitted those instructions to the coal ministry for allotment of coal blocks," he said.