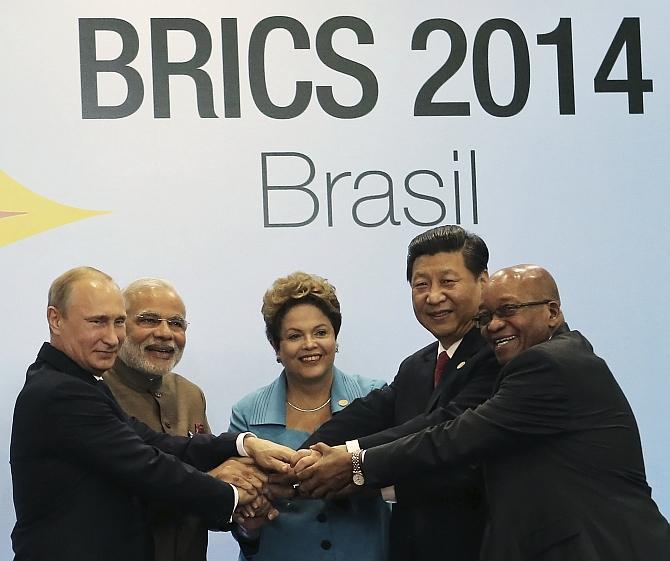 Pitching for 'zero tolerance" against terrorism, Prime Minister Narendra Modi on Tuesday told leaders of the five-nation grouping BRICS that the "choices" they make now will shape the future of the world at large.
Addressing the summit of Brazil-Russia-India-China-South Africa in Fortaleza, he noted that the region stretching from Afghanistan to Africa is "experiencing turbulence and conflict" and "remaining mute spectators to countries being torn up can have grave consequences".
Modi, who is attending the Summit for the first time, said, "I firmly believe that terrorism, in any shape or form, is against humanity. There should be zero tolerance towards terrorism." He underlined that the "choices we make now will shape the future of not just our countries, but the world at large."
The PM referred to the issue of cyber world and said, "Cyber space is a source of great opportunity" but "cyber security has "become a major concern".
BRICS countries, Modi said, should take a lead in preserving cyber space as a global common good.
He also pushed for an "open, rule-based, international trading regime", saying it is critical for global economic growth. "It (global economic growth) must address aspirations of developing world" and "accommodate the special needs of the most vulnerable sections of our societies, especially in such areas as food security," the PM said.
Observing that he comes from a land where the idea of the whole world being one family is rooted in its ethos 'vasudhaiva kutumbakam', he said, "We can all partake of the bounty of nature. However, exploitation of nature is a crime."
Talking in the context of India, he said, "We will champion clean and frugal resource use to maintain sustainability of our development process, without constraining our growth."
Modi said his government will invest heavily in infrastructure, affordable housing, healthcare, education and clean energy.

Image: Russian President Vladimir Putin, Prime Minister Narendra Modi, Brazilian President Dilma Rousseff, Chinese President Xi Jinping and South African President Jacob Zuma join their hands at a group photo session during the 6th BRICS summit. Photograph: Nacho Doce/Reuters