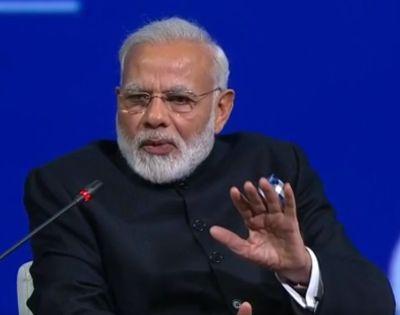 Prime Minister Narendra Modi on Friday sought to put the spotlight on Pakistan arming and funding militants in Kashmir, as he pressed the world community to come together to fight the menace of terrorism, which he described as the "enemy" of humankind.
With Russian President Vladimir Putin sitting next to him at the St Petersburg International Economic Forum, Modi emphasised that the world should move beyond the "good terrorism, bad terrorism" debate and block funding, weapons and communication modes of terrorists.
He also pushed for early decision on the Comprehensive Convention on International Terrorism, a resolution pending before the United Nations for the last 40 years.
Joining Modi, Putin said India was facing a serious problem on account of terrorism and it was not an "imaginary thing".
During a question-answer session after addressing the SPIEF, Modi said, "Terrorists don't manufacture weapons, but some countries supply guns to them. Terrorists don't print currency, but some countries facilitate their financing through money laundering. Terrorists don't own telecommunications system and social media networks, but some countries help them with that."
Although he did not name any country, the reference was clearly to Pakistan which India says has been indulging in all these activities in Kashmir.
"The call of time is that we should rise above specific incidents. Terrorism is the enemy of humankind. All should come together to fight terrorism," he said.
Noting that the UN Secretary General Antonio Guterres was present in the gathering, the prime minister lamented that for 40 years, the CCIT resolution has been pending before the United Nations regarding definition of terrorism and of those who help terrorists.
"Only lip service has been provided. There has been no discussion, nor any decision," he said.
The prime minister said he was glad that Putin had on Thursday publicly stated that the resolution would be discussed.
"Now we should come out of good terrorism, bad terrorism (debate); my terrorist, your terrorist (syndrome). It is an issue of humankind. That's how we can fight terrorism," Modi said.
India, he said, has been a victim of cross-border terrorism for 40 years and thousands of innocent citizens have been killed but the world recognized terrorism merely as a law and order problem for many years. Only after 9/11, the world woke up to know how deep terrorists can strike and how much havoc they can wreak, he said.
He said terrorism has no boundaries and all countries should fight it collectively.
Putin also said that India was facing a serious problem on account of terrorism and it was not an "imaginary thing".
He agreed with Modi that terrorism is a common threat and "that should unite us. We ought to understand what is happening and where it will lead us. We ought to be aware of the danger" of terrorism.
Not a single bullet fired in 40 years despite border dispute with China: PM
The world has increasingly become inter-connected and inter-dependent, a transformation that has made it necessary for India and China to cooperate on trade and investments despite a simmering border dispute, Prime Minister Narendra Modi said.
"It is true that we have a border dispute with China. But in the last 40 years, not a single bullet has been fired because of border dispute," Modi said.
Modi was responding to a question whether India's opposition to China's 'One Belt One Road' project reflects deep discord in their relationship. India had boycotted a high-profile conference recently hosted by China on the project, citing "sovereignty" issue since it passes through Pakistan-occupied Kashmir.
The prime minister noted that it is not the same bipolar world of before when nations were aligned either with the United States or the former Soviet Union.
"It is an inter-connected and inter-dependent world. So countries may have some disputes and some areas of collaboration," he said, noting that India and Russia relationship has stood the test of time as it was based on trust.
The 24-page St Petersburg Declaration, released on Thursday after his summit with Putin, is a testament to India-Russia relation, Modi said. "And I know the world will minutely scrutinize every word for future direction of our relations."
On China, he said that despite differences, New Delhi and Beijing have come together on the BRICS platform to create two financial institutions, one headed by China where India is a partner and one BRICS Bank where the two regional superpowers are collaborators.
"The world is increasingly becoming inter-dependent. We believe in 'Sabka Saath Sabka Vikaas' (Cooperation of all, development for all). This is not just for the domestic programmes but also for international cooperation. We want to carry everyone along for development," he said.