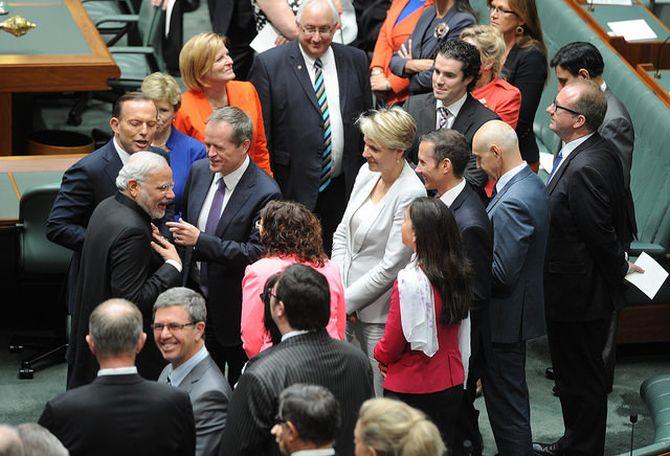 Prime Minister Narendra Modi took a playful dig at his Australian counterpart, telling lawmakers that it could be Tony Abbott's way of getting at them by making them listen to three world leaders within a week.
"I'm the third head of the government you are listening to this week, I do not know how you are doing this! May be, this is Prime Minister Abbott's way of shirt fronting you," Modi said opening his speech with Abbott's now-infamous threat to "shirt front" Russian President Vladimir Putin.
The lawmakers erupted into laughter and even Abbott was seen chuckling after Modi's comment.
Abbott had threatened to "shirt front" Putin -- a football term used in Australia for a head-on shoulder charge to an opponent's chest -- at the G-20 summit in Brisbane.
British Prime Minister David Cameron and Chinese President Xi Jinping have addressed the Australian Parliament before Modi this week.
"I am truly honoured and humbled by this opportunity to speak to you," said Modi, the first Indian prime minister to address the Australian Parliament.
"I stand here as one of you -- a representative of the people; I come to you with the greetings of 1.25 billion people of a nation, linked to Australia by the great Indian Ocean; by our connected history and our many shared inheritances -- and, even more by our deeply interlinked destinies.
"And, today I have come to unite in spirit, as we were once by geography -- spirit that is fed by many stirring stories of human success and sacrifice," he added.
Modi is the first Indian prime minister to visit Australia in 28 years after Rajiv Gandhi in 1986.
Image: Prime Minister Narendra Modi at the Joint Session of Parliament of Australia. Photograph: M Asokan/Photo Division​​
© Copyright 2022 PTI. All rights reserved. Republication or redistribution of PTI content, including by framing or similar means, is expressly prohibited without the prior written consent.