The United States on Tuesday returned over 200 cultural artefacts estimated at $100 million (Rs 668 crore) to India at a ceremony attended by Prime Minister Narendra Modi.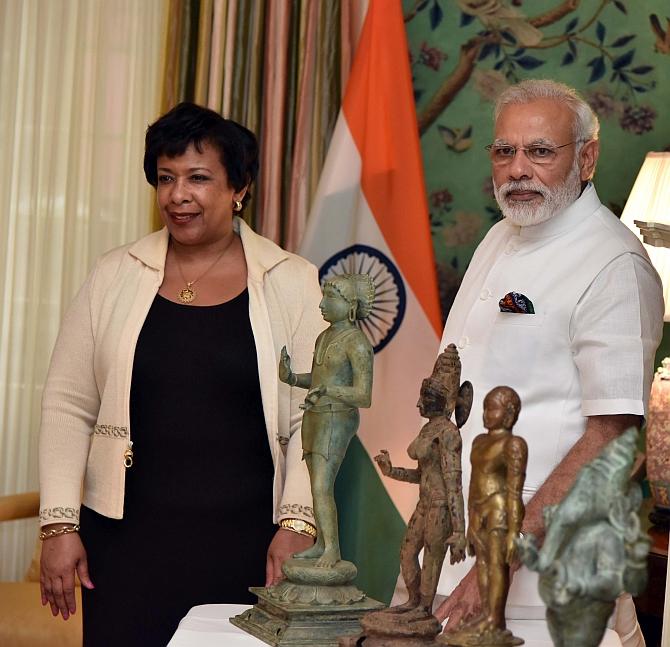 "For some, these artefacts may be measured in monetary terms but for us this is beyond that. It's a part of our culture and heritage," the prime minister said at the ceremony held at the Blair House.
Items returned included religious statues, bronzes and terra cotta pieces, some dating back 2,000 years, looted from some of India's most treasured religious sites.
Among the pieces returned is a statue of Saint Manikkavichavakar, a Hindu mystic and poet from the Chola period (circa 850 AD to 1250 AD) stolen from the SivanTemple in Chennai, which is valued at $1.5 million.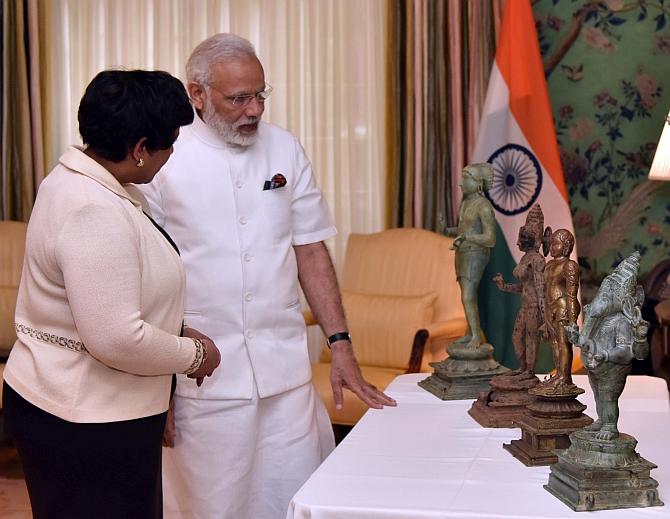 Also included in the collection is a bronze sculpture of the Hindu god Ganesh estimated to be 1,000-year-old.
The artefacts that speak to India's astounding history and beautiful culture are beginning their journey home, US Attorney General Loretta E Lynch said.
"It is my hope -- and the hope of the American people -- that this repatriation will serve as a sign of our great respect for India's culture; our deep admiration for its people; and our sincere appreciation for the ties between our nations," she said.
"Protecting the cultural heritage of our global community is important work and we are committed to identifying and returning these priceless items to their countries of origin and rightful owners," said Secretary of Homeland Security Jeh Johnson said in a statement.
"It's the responsibility of law enforcement worldwide to ensure criminal smuggling organisations do not profit from the theft of these culturally and historically valuable items," he said.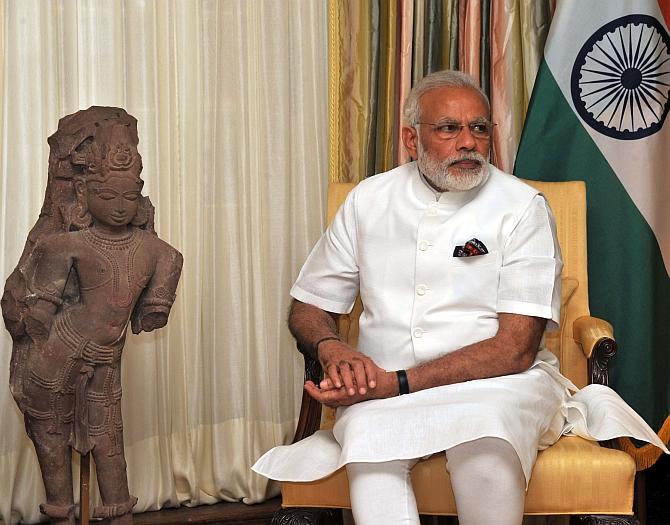 HSI's Operation Hidden Idol focused on the activities of former New York-based art dealer Kapoor, currently in custody in India awaiting trial for allegedly looting tens of millions of dollars worth of rare antiquities from several nations, a media release said.
Artefacts were also found in the Honolulu Museum and Peabody Essex, who promptly partnered with HSI to surrender illicit cultural property stemming from Kapoor.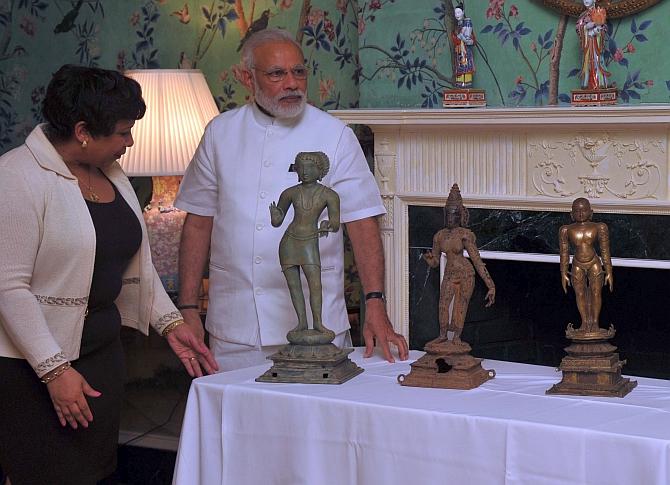 HSI special agents have executed a series of search warrants targeting Kapoor's New York City gallery, along with warehouses and storage facilities linked to the dealer.
Additionally, five individuals have been arrested in the US for their role in the scheme, a media release said.
Images: Prime Minister Narendra Modi with US Attorney General Loretta E Lynch at the ceremony for return of idols stolen and smuggled from India. Photographs: MEA Flickr
© Copyright 2022 PTI. All rights reserved. Republication or redistribution of PTI content, including by framing or similar means, is expressly prohibited without the prior written consent.