Prime Minister Narendra Modi on Tuesday visited Chandrashekhar Azad's birthplace here in the tribal-dominated Alirajpur district and paid rich tributes to the revolutionary leader.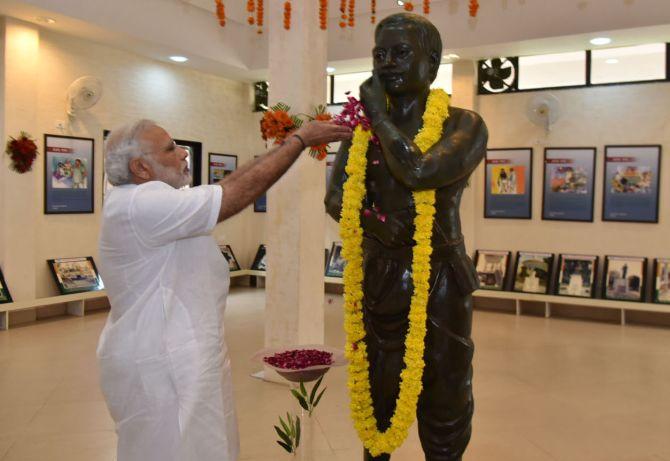 IMAGE: Prime Minister Narendra Modi paying floral tributes to Shaheed Chandrashekar Azad, in Bhabra village in Madhya Pradesh. Photograph: PIB phtotos
Modi is the first prime minister to visit the birthplace of Azad, Madhya Pradesh minister Vishwas Sarang said.
The PM paid floral tributes at the statue of Azad at his birthplace, known as 'Azad Kutia'. Bhabhra was rechristened as Chandrashekhar Azad Nagar by the Bharatiya Janata Party government in memory of the revolutionary leader.
The prime minister, accompanied by Chief Minister Shivraj Singh Chouhan, also visited an exhibition based on Azad's life.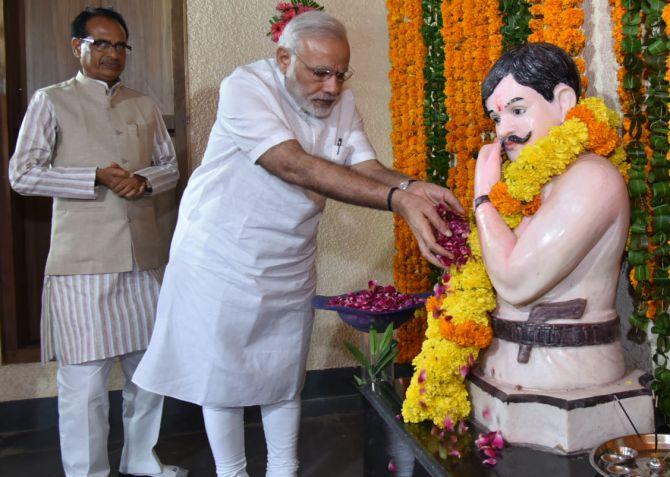 IMAGE: Prime Minister Narendra Modi and MP Chief Minister Shivraj Singh Chauhan at the Azad Kutia, the house where Azad was born. Photograph: PIB phtotos
Later in the day, Modi will launch a campaign '70, Azaadi Yaad Karo Qurbani' on the occasion at Jothrada, about 7km from Bhabhra, and address a meeting.
Earlier, the chief minister welcomed Modi at Indore airport on his arrival from Delhi.
Then Modi, along with Chouhan, went to Bhabhra in an IAF helicopter where he was welcomed by state Bharatiya Janata Party president Nandkumar Singh Chauhan, Women and Child Development Minister Archana Chitnis and minister of state for cooperatives (independent charge) Vishwas Sarang, among others.