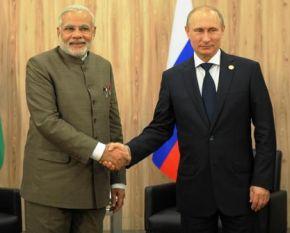 Prime Minister Narendra Modi has favoured broadening of the strategic partnership with Russia in nuclear, defence and energy sectors and invited President Vladimir Putin to visit Kudankulam atomic power project during his trip in December for his annual summit.
The two leaders met for 40 minutes on the sidelines of the BRICS summit on Tuesday night after their Monday meeting was deferred because of Putin's engagements in capital Brasilia.
Putin congratulated Modi on his great victory in the recent elections. Modi, who has met Putin in 2001 in Moscow, said that Russia is a time-tested relationship and appreciates that it has been so since early independence.
Speaking in Hindi, he remarked, "Even a child in India if asked to say who India's best friend is will reply it is Russia because Russia has been with India in times of crisis."
He said India is committed to taking the relationship forward and the focus is to broaden the strategic partnership in nuclear, defence and energy sectors besides stepping up people-to-people contacts.
The prime minister said there was need to look at a liberal visa regime, especially students going for studies. President Putin acknowledged that there was a case for looking at it, ministry of external affairs spokesman Syed Akbaruddin said.
Modi suggested that President Putin should travel outside Delhi when he comes for the annual summit dialogue in December and visit a nuclear construction site, an apparent reference to the Kudankulam II project. Putin responded saying "it is a good idea".
Modi fondly recalled his visit to Russia's Astrakan region in his early days as chief minister of Gujarat which has ties with that region. Talking about that visit, he said he felt as if he was in India.
Putin said Russia places its relations with India high enough in the strategic framework. Nuclear power project has been a symbol of India-Russia relations.
Modi appreciated Putin's speech at the BRICS summit saying it was clear on issues like reforms of the UN Security Council and international financial organisations.
Image: Prime Minister Narendra Modi with Russian President Vladimir Putin. Photograph: @PMO/Twitter
© Copyright 2023 PTI. All rights reserved. Republication or redistribution of PTI content, including by framing or similar means, is expressly prohibited without the prior written consent.