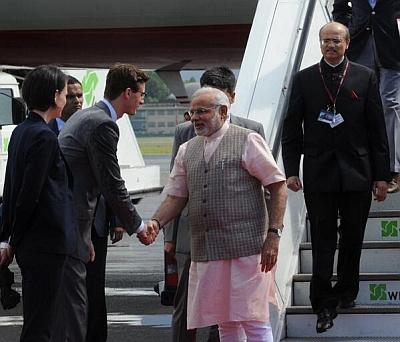 Prime Minister Narendra Modi arrived in Berlin for an overnight stopover on his way to Brazil for the Brazil, Russia, India, China and South Africa (BRICS) Summit meeting that will address regional crises and security threats to restore a climate of peace while advancing global economic stability.
Modi was received at the airport by Indian Ambassador to Germany Vijay Gokhale and senior officials from the German foreign ministry.
All eyes on PM Modi's first international summit
In a departure statement in New Delhi before leaving for Berlin en route Fortaleza in Brazil for his first multi-lateral engagement with global leaders, Modi said that India looks forward to the BRICS initiative for setting up the New Development Bank and Contingent Reserve Arrangement.
The BRICS Development Bank with a corpus of $100 million will fund projects in a number of countries and other developing countries. India along with China are in contention for establishing its headquarters either in New Delhi or in Shanghai.
Modi is visiting Brazil at the invitation of Brazilian President Dilma Rousseff to attend the Sixth BRICS Summit being held in Fortaleza and Brasilia on July 15 and 16.
The PM noted that the meeting is taking place at a time of political turmoil, conflict and human crisis in several parts of the world.
There is also persisting weaknesses and unrest in the global economy. Many emerging economies have experienced a slowdown which has increased the challenge of pursuing inclusive and economic development, he said.
"I look at the BRICS Summit as an opportunity to discuss with my BRICS partners how we can contribute to international efforts to address regional crises, address security threats and restore a climate of peace and stability in the world," he said.
"I also look forward to our discussions to further advance intra-BRICS economic cooperation and our collective efforts to advance global economic stability and prosperity. In particular, I look forward to the successful conclusion of major BRICS initiatives, like the New Development Bank and the Contingent Reserve Arrangement, which have seen significant progress since their launch in New Delhi in 2012," he said.
The PM is accompanied by a high-level delegation that includes Minister of State for Finance Nirmala Sitharaman, National Security Adviser A K Doval, Foreign Secretary Sujatha Singh and Finance Secretary Arvind Mayaram.
Image: PM Narendra Modi is received by German foreign ministry officials at Berlin's Tegel Military Airport. Photograph: @PMOIndia/Twitter