Prime Minister Narendra Modi on Friday met United Nations chief Ban Ki-moon who said he "counted on India's leadership" in South Asia, at the Sustainable Development Goals summit in New York marking the world body's landmark 70th anniversary session.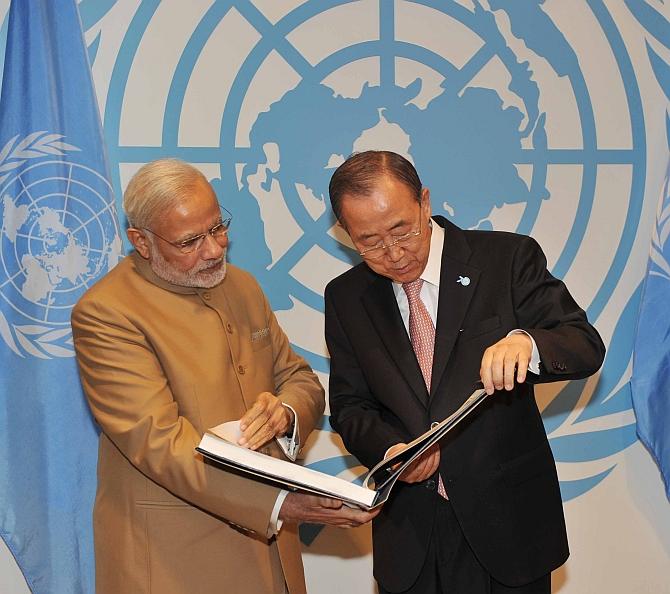 Modi and the UN Secretary-General discussed sustainable development, Security Council reform and UN peacekeeping operations ahead of the prime minister's speech at the summit.
With India among the countries providing the highest number of peacekeeping troops, the prime minister said nations sending their soldiers must have a say in peacekeeping missions.
Calling for Security Council reforms, Modi had recently written to Ban for the "need to rethink how the multilateral system can be made more inclusive, more effective and, ultimately, better fit for the purpose it was conceived".
"The United Nations must be made more effective for dealing with the new security challenges," he had said.
The two leaders also had detailed discussions on climate change. Modi said currently there is a huge trust deficit among developed and developing nations as he stressed on the positive aspect of climate change.
There was a broad exchange of views on the current political situation in Nepal and Sri Lanka with Ban saying that he counted on India's leadership in the region.
"Discussing development @UN. @secgen Ban Ki Moon calls on PM @narendramodi before he speaks at UN SDG Summit," MEA spokesman Vikas Swarup tweeted.
The UN adopted an ambitious agenda aiming to tackle global challenges like poverty and hunger over the next 15 years.
The SDGs or global goals, including assuring gender equality and building a life of dignity for all, were adopted as global leaders gathered at the UN headquarters for the world body's historic 70th anniversary session.
The 193-member General Assembly adopted the new development agenda after years of intense negotiations.
Image: Prime Minister Narendra Modi presents a book on India & the UN to the world body's secretary general Ban Ki-moon. Photograph: Paresh Gandhi/Rediff.com