Even the government admits privately that the remainder of the session for the Rajya Sabha is washed out. Kavita Chowdhury reports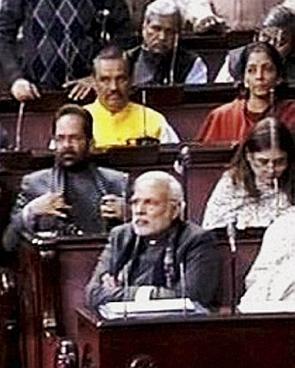 He entered the House at three minutes past 12 noon during Question Hour, a few seconds after the Rajya Sabha had been adjourned due to disruptions.

Prime Minister Narendra Modi, attired in a grey suit and blue muffler, walked in even as the Opposition had barely stopped sloganeering, "PM lao, House chalao (Call the PM in the House. Let the House run)."
For three days, no business has been transacted in the Rajya Sabha with the Opposition digging in its heels.

Zero Hour had been washed out and the Chair was making attempts to hold Question Hour but the Opposition parties were insistent that the discussion on religious conversions could be held only in the presence of the prime minister.

While Modi did come into the House, as Thursday was the day for questions to his ministries, he sat for over an hour but did not speak a word.

The government agreed to have a discussion but rejected outright the Opposition demand that the prime minister reply to the debate.

The government maintained Home Minister Rajnath Singh would reply.

Even the government admits privately that the remainder of the session for the Rajya Sabha is washed out.

An entire hour was spent trading charges between volatile Treasury benches and equally combative Opposition benches. At times, with more than 10 speakers shouting, the microphones stopped working.

The Congress had issued a whip ensuring full attendance of all its members.

The Chairman made repeated attempts to begin the discussion but the government was not willing to submit to any conditionality.

Congress members were heard sloganeering gharvapasi targeting the prime minister in the House.

Leader of the House Arun Jaitley intervened to put on record the prime minister had, acceding to the Opposition demand, come to the house on the Sadhvi Niranjan Jyoti issue but the logjam continued for three more days despite the Congress wanting to resume work.

To this angry Trinamool Congress and Left party members shot back, "Don't try to divide us."

Leading the Opposition charge, Congress' Anand Sharma urged the prime minister to explain to the House why despite his assurances three more Bharatiya Janata Party members had made provocative statements and thereby violated the assurance given to the House.

Bahujan Samaj Party supremo Mayawati, senior leader of the Janata Dal (United) Sharad Yadav and Sitaram Yechury of the Communist Party of India (Marxist) all requested that the prime minister not make this a 'prestige issue' but since the motion dealt with 'attack on the secular fabric of the country' he should answer.
While no questions were taken up, Modi was a silent spectator to the commotion that was going on around him and about him.

The Opposition asked why the government had no faith in their prime minister's ability to reply, to which Mukhtar Abbas Naqvi shot back, "We are not in government to oblige you. We are here not because of you and will not oblige you."

The government fears this will become a precedent. In this melee the insurance and other crucial bills could not be taken up.