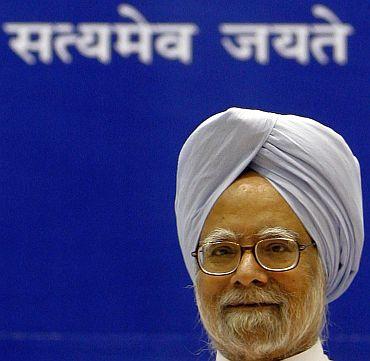 Prime Minister Manmohan Singh was on Wednesday briefed by top officials on the United States-sponsored resolution on human rights violations in Sri Lanka, within hours of government announcing that it will move amendments to the final draft text at Geneva-based United Nations Human Rights Council to send a 'resolute message' on the issue.
Singh was apprised of the document in a meeting which was attended by Finance Minister P Chidambaram, External Affairs Minister Salman Khurshid, National Security Advisor Shiv Shankar Menon, Foreign Secretary Ranjan Mathai and India's Permanent Representative at the UN in Geneva Dilip Sinha.
Stressing that India wanted the UN Human Rights Council to adopt a 'strong' resolution on Sri Lanka, Chidambaram said India will move amendments to the draft to send a 'resolute message' to that country on alleged human rights violations of Tamils and 'goad' it to have an independent inquiry, a key demand of the Dravida Munetra Kazhagam.
The finance minister also dismissed allegations that India had sought dilution of the strongly-worded resolution by the US, saying it was an absolute 'canard'.
"The amendments were finalised on Tuesday," he said, adding Sinha was in Delhi and he will be given 'suitable instructions to move the amendments' at the UN meet.
The resolution will come up for voting on Thursday at the 22nd Session of UNHRC at Geneva. "India's position has always been and remains that the UNHRC should adopt a strong resolution that would send a resolute message to Sri Lanka and goad Sri Lanka to accept an independent and credible investigation," Chidambaram said.
The final draft resolution has two major changes. The first being that the demand for an international independent probe into the allegations of rights violation in Sri Lanka was no longer part of the main text of the resolution. It is part of its preamble. The second deals with no 'unfettered access' for a special rapporteur.
© Copyright 2023 PTI. All rights reserved. Republication or redistribution of PTI content, including by framing or similar means, is expressly prohibited without the prior written consent.