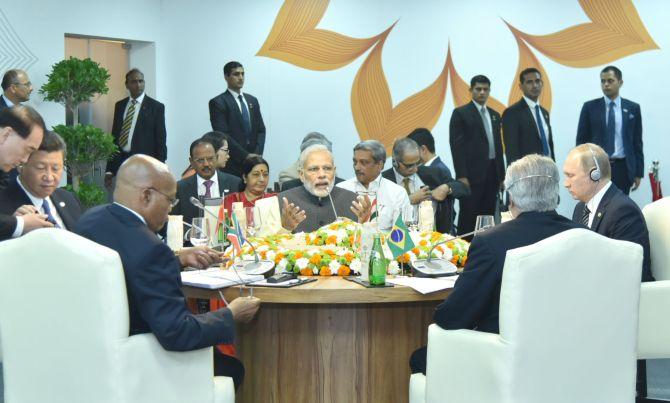 IMAGE: Prime Minister Narendra Modi speaks at BRICS leaders' 'restricted meeting' at the BRICS Summit venue in Goa on Sunday. Photographs: PIB India
Dubbing Pakistan as 'mothership' of global terrorism, Prime Minister Narendra Modi on Sunday pressed for 'comprehensive' and 'collective' action against the menace and its supporters, warning that any selective approach will be 'counter-productive'.
At the Brazil, Russia, India, China, South Africa Summit in Goa attended by Russian President Vladimir Putin, Chinese President Xi Jinping and leaders of other member countries, Modi lambasted Pakistan without naming it, saying it not only shelters terrorists but also 'nurtures a mindset" that "loudly proclaims that terrorism is justified for political gains'.
He also appeared to be sending out a message to the Chinese President whose country has blocked designation of Pak-based terror group Jaish-e-Mohammed chief Masood Azhar as a global terrorist by the United Nations as he said that those supporting terrorism have to be 'punished, not rewarded'.
Asking the BRICS nations to act together against the threat posed by terrorism, Modi said response to terrorism must be nothing less than comprehensive and that countries must act both 'individually and collectively'.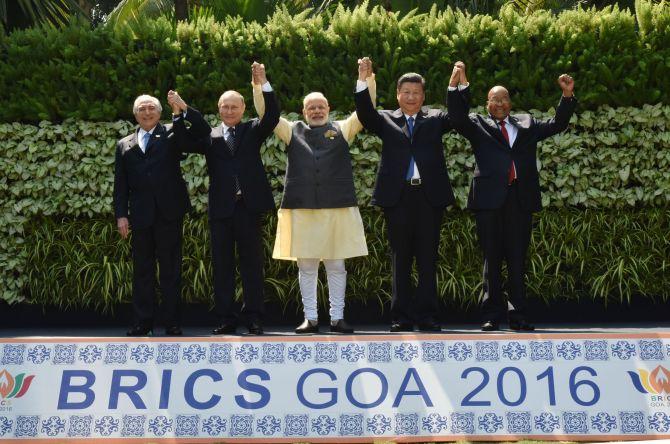 IMAGE: From left, Brazilian President Michel Temer, Russian President Vladimir Putin, Prime Minister Narendra Modi, Chinese President Xi Jinping and South African leader Jacob Zuma pose for a photograph on Sunday morning.

'In our own region, terrorism poses a grave threat to peace, security and development. Tragically its mothership is a country in India's neighbourhood. Terror modules around the world are linked to this mothership. This country shelters not just terrorists. It nurtures a mindset. A mindset that loudly proclaims that terrorism is justified for political gains.
'It is a mindset that we strongly condemn. And, against which we as BRICS need to stand and act together. BRICS must speak in one voice against this threat,' he said at the Summit also attended by Brazilian President Michel Temer and South African President Jacob Zuma.
Underlining that 'criminality should be the only basis for punitive action against the individuals and organisations responsible for carrying out terrorist acts', the prime minister said, 'Terrorist funding, their weapons supply, training and political support must be systematically cut off.'
He also called for early adoption of the draft Comprehensive Convention on International Terrorism saying doing so will be an expression of 'our resolve' to fight the menace.
Asserting that selective approaches to terrorist individuals and organizations will not only be futile but also 'counter-productive', Modi said there must be no distinction based on 'artificial and self-serving grounds'.
His remark came against the backdrop of Chinese putting a 'hold' on global banning of Masood Azhar, who is a mastermind of several terror attacks in India, including on Pathankot Airbase in January.
IMAGE: PM meets Putin at the welcome ceremony of BRICS leaders.
Making a press statement in the presence of all the BRICS leaders at the conclusion of the Summit, Modi said it was 'agreed that those who nurture, shelter, support and sponsor such forces of violence and terror are as much a threat to us as the terrorists themselves'.
Emphasising that security and counter-terrorism cooperation are necessary 'if we are to secure the lives of our citizens', he said, 'terrorism casts a long shadow on our development and economic prosperity. Its reach is now global. It has grown more lethal and adept at the use of technology. Our response to terrorism must, therefore, be nothing less than comprehensive'.
He said terrorist funding, their weapons supply, training and political support must be systematically cut off. 'In this respect, we need to deepen the security cooperation between our national security advisors,' the prime minister said.
He said the BRICS leaders were unanimous in recognising the threat that terrorism, extremism and radicalization presents, not just to the regional and global peace, stability and economic prosperity but, also to our society, our way of life and humanity as a whole.
'We were also one in agreeing that BRICS need to work together and act decisively to combat this threat and underscored the need for close coordination on tracking sources of terrorist financing; and targeting the hardware of terrorism, including weapons' supplies, ammunition, equipment, and training,' Modi said.
The PM said India was happy to note the unity of thought and purpose on this serious global challenge.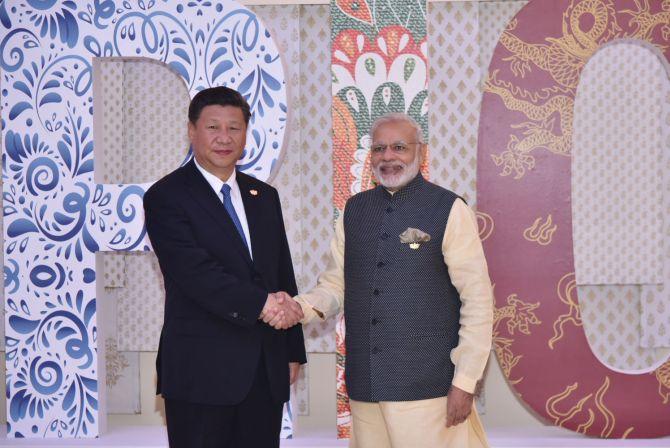 IMAGE: PM meets Xi at the welcome ceremony of BRICS leaders.
During his bilaterals with Putin and Xi on Saturday, Modi had strongly articulated India's concerns over terrorism emanating from Pakistan.
'The growing arc of terrorism today threatens Middle East, West Asia, Europe and South Asia,' he said.
'Its violent footprint puts at risk the security of our citizens and undercuts our efforts aimed at economic growth,' the PM added.
On achievement of BRICS, Modi said the footprint of intra-grouping engagement has expanded over time to include large areas of economic activity.
'The scope of our partnership today stretches from agriculture to industry and innovation; trade to tourism; environment to energy; films to football; skill development to smart cities; and from fighting corruption and money laundering to securing our societies,' he said.
He said the establishment of New Development Bank and the Contingency Reserve Arrangement are 'indeed signature achievements'.
"In a world of new security challenges and continuing economic uncertainties, BRICS stands as a beacon of peace potential and promise," he said.
The PM said the process of institution building in BRICS must continue to remain a focus area.
"The institutions that we build must support the development of our countries and regions. They should enable greater flexibility and freedom, and offer wider choices in responding to our developmental priorities," he said.
He further said, "We look forward to translating into reality the idea of a BRICS Credit Rating Agency."
The PM said there was also a clear need to build norms, create structures and pool our capacities to stop tax evasion, and fight against black money and corruption.
"Our agencies must also build mechanisms of information sharing to bring to justice the tax offenders and money launderers. BRICS should push for empowering the global governance institutions to reflect today's reality," he said.