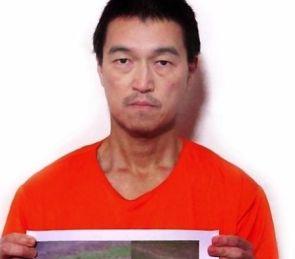 A video message posted late on Wednesday by the Islamic State warns that Japanese hostage Kenji Goto will be executed within 24 hours if Jordan fails to release an Iraqi prisoner on death row.
In the video, titled 'The second public message of Kenji Goto Jogo' to his family and the government of Japan, a man identifying himself as Goto says, "I have been told this is my last message and I've also been told that the barrier of extracting my freedom is now just the Jordanian government delaying the handover of Sajida."
Sajida al-Rishawi is an Iraqi woman on death row in Jordan for her role in a deadly attacks against hotels in Jordan in 2005.
"Tell the Japanese government to put all their political pressure on Jordan. Time is now running very short. It is me for her. What seems to be so difficult to understand? She has been a prisoner for a decade, and I've only been a prisoner for a few months. Her for me. A straight exchange," is what the hostage who resembles Goto says.
Goto added that 'anymore delays... will mean they're responsible for the death of their pilot, which will then be followed by mine'.
"I only have 24 hours to live... Please don't leave us to die," Goto pleads in the video, noting, "The ball is now in the Jordanians' court."
Japanese officials met to discuss the video following which Chief Cabinet Secretary Yoshihide Suga issued a statement, "The government, facing an extremely tough situation, has asked for the cooperation of the Jordanian government to seek an early release of Goto. (Top officials) have confirmed that policy will remain unchanged."
The IS on Saturday said it executed Japanese hostage Haruna Yukawa because Japanese Prime Minister Shinzo Abe failed to provide a $200 million ransom.