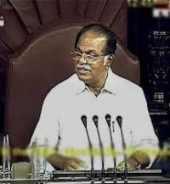 An Indian delegation led by Rajya Sabha Deputy Chairman P J Kurien on Monday left for the Vatican from Delhi to take part in the installation of Pope Francis as the 266th Pontiff of the Catholic church.

According to Kurien's office in his hometown Pathanamthitta, the delegation include his wife Susan Kurien, and MPs Anto Antony of the Congress) and Jose K Mani of the Kerala Congress-M.

Two Cardinals from Kerala, Mar George Alancherry of Syro Malabar Church and Mar Baselios Cleemis of Syro Malankara Church are already in Rome, where they had gone to attend the vote in the conclave for election of the new Pope, following the resignation of his predecessor Benedict XVI.
Apart from members of the official delegation, a large number of bishops from Kerala have also left for Rome to attend the installation of Jorge Mario Bergoglio from Argentina as the 266th pontiff of the Catholic church, as Pope Francis.