The UP CM's visit comes a day after senior BJP leaders were charged with conspiracy in the Babri Masjid case.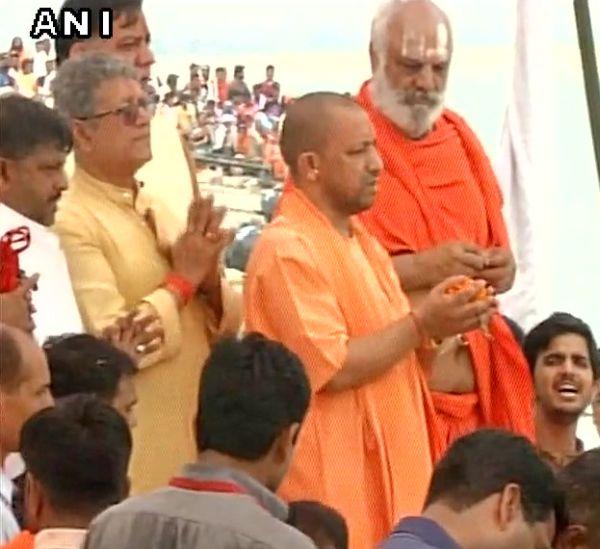 Uttar Pradesh Chief Minister Yogi Adityanath on Wednesday offered prayers at the makeshift Ram temple in Ayodhya on his first visit to the town after taking charge.
The visit assumes significance as it comes a day after criminal conspiracy charges were framed against top Bharatiya Janata Party leaders in the Babri mosque demolition case.
The UP chief minister, who arrived on Wednesday morning, spent around 30 minutes at the makeshift temple in the Ram Janambhoomi-Babri Masjid complex. He later offered payers on the banks of the Saryu River.
Adityanath began his visit by offering prayers at the Hanumangarhi Temple in Ayodhya.
He was accompanied by Dharam Das, against whom conspiracy charges were framed on Tuesday along with the other BJP leaders.
A special Central Bureau of Investigation court in Lucknow had on Tuesday framed charges against BJP veterans L K Advani, M M Joshi, Union minister Uma Bharti and nine others in the 1992 Babri mosque demolition case.
Before Advani reached the court, Adityanath had met him at the VVIP guest house in Lucknow.
The Supreme Court had ordered restoration of the conspiracy charge against them on April 19.
All six were on Tuesday granted bail by CBI special judge S K Yadav on a personal bond of Rs 50,000 each after rejecting the CBI's opposition to their bail plea.
The apex court had while restoring the charge of criminal conspiracy, directed clubbing of two cases relating to the demolition. The court had also ordered that the trial be concluded in two years.
The CBI had charge-sheeted 21 people in the case. Many of them, including Shiv Sena supremo Bal Thackeray and the Vishwa Hindu Parishad's Acharya Giriraj Kishore, Ashok Singhal, Paramhans Ram Chandra Das and Mahant Avaidhynath, have since died.
Image: UP Chief Minister Yogi Adityanath offers prayers on the banks of River Saryu. Photograph: ANI/Twitter
© Copyright 2020 PTI. All rights reserved. Republication or redistribution of PTI content, including by framing or similar means, is expressly prohibited without the prior written consent.