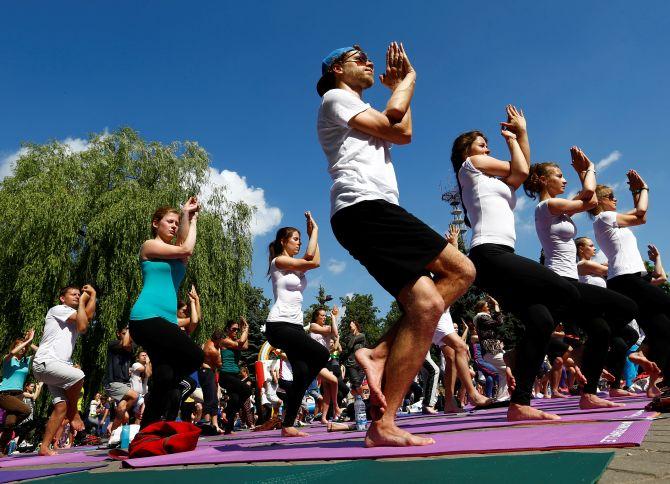 Hundreds of thousands of yoga lovers from London to Melbourne have rolled out mats to bend and twist their bodies in complex postures to mark the second International Day of Yoga with fervour.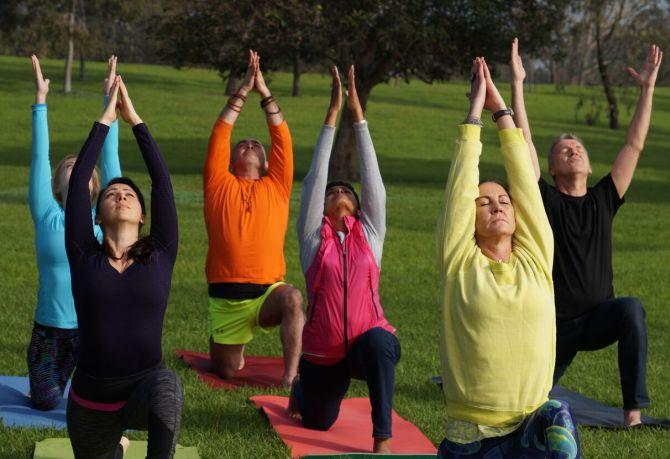 IMAGE: Yoga

practitioners prep ahead of International Day of Yoga in Melbourne, Australia. Photograph: MEAIndia/Flickr
The high commission of India and the Indian government's Tourist Office in London, in collaboration with 14 British yoga institutions marked International Day of Yoga today, two days ahead of its second anniversary.
The day-long event at Potters Fields Park, near the iconic Tower Bridge, saw over 10,000 people from all walks of life participating in various yoga and meditation sessions.
In South Africa, thousands gathered at more than a dozen venues across the country to celebrate the International Day of Yoga that was adopted by the UN General Assembly two years ago.
Hundreds of yoga enthusiasts of all religions and races performed yoga at the main event at Johannesburg's ZooLake park.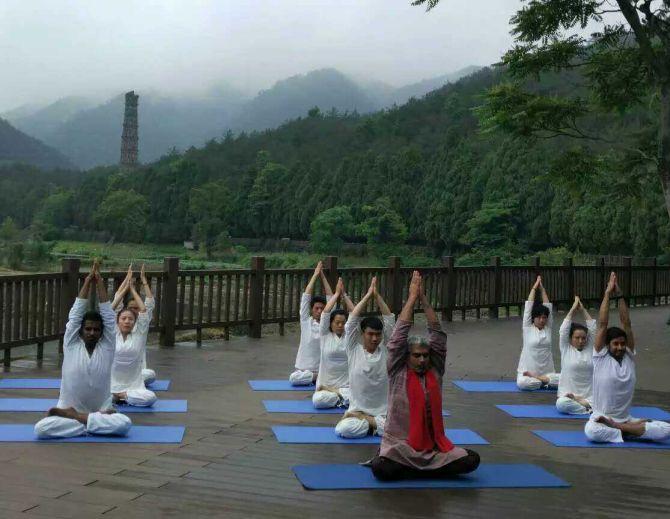 IMAGE: Around 1,000 yoga lovers welcome upcoming celebrations of Yoga in Eastern China.

Photograph: MEAIndia/Flickr
The Indian high commission in Pretoria and its three Consulates in Durban, Cape Town and Johannesburg coordinated events with a host of community organisations.
The second International Day of Yoga was also celebrated across major Australian cities including Canberra and Melbourne with Prime Minister Malcolm Turnbull hailing yoga as one of India's gifts to the world.
Turnbull commended Prime Minister Narendra Modi's vision of supporting global peace and well-being and described the ancient practice of yoga as one of India's gifts to the world and acknowledged its aim to develop resilience, thoughtfulness, respect and harmony, towards each other and the world.
Meanwhile, in China a large number of yoga enthusiasts on Saturday participated in events held across the country in association with the Indian Embassy to mark the celebrations leading up to the second International Day of Yoga on June 21.
China's Wuxi city organised the biggest yoga get together today in which 3,500 people took part.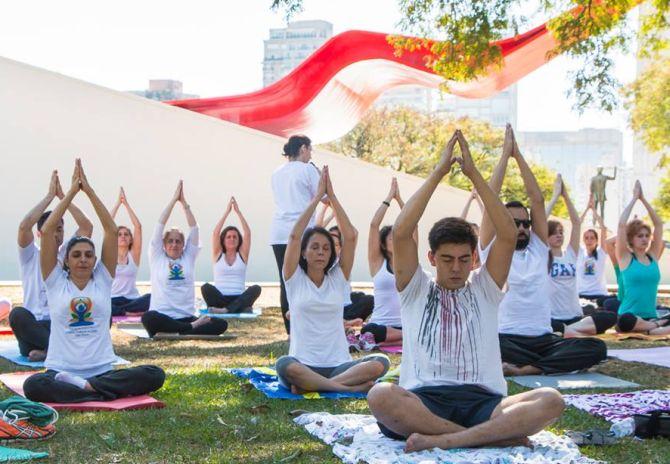 IMAGE:Yoga sessions around Sao Paulo, Brazil. Photograph: MEAIndia/Flickr
The event was hosted at the iconic Wuxi Hollywood Studios and nearly 3,500 yoga lovers from Wuxi registered and participated.
In America, Indian classical dances and demonstration of popular yoga asanas on the lawns of magnificent US Congress on Saturday kicked off the week-long International Day of Yoga celebrations.
Yoga enthusiasts and health conscious Americans turned up in large number to enjoy dance forms like Bharatanatyam, Kathak, Kuchipudi and Mohiniattam and flex their muscles under the guidance of trained yoga instructors.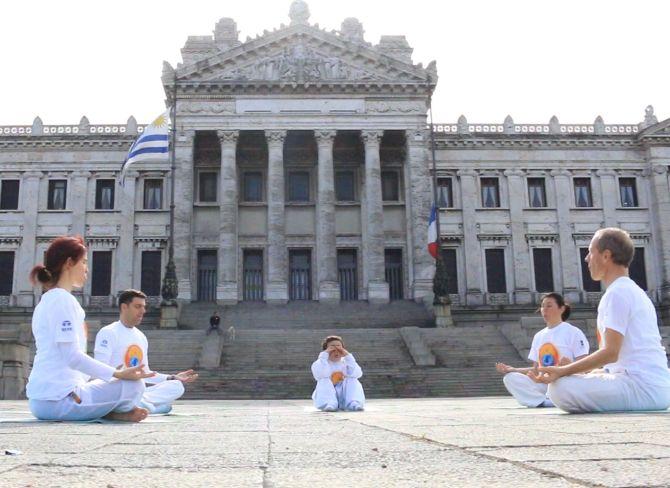 IMAGE: Preparation of second International Day of Yoga in Buenos Aires, Argentina. Photograph: MEAIndia/Flickr
Meanwhile, Prime Minister Narendra Modi on Sunday said he had not anticipated the "enormous enthusiasm" from across the globe for his call which had led the United Nations to declare June 21 as the International Yoga Day last year, asserting that yoga was much more than a physical exercise.
"When I outlined a vision for an International Day of Yoga in September 2014 at the United Nations General Assembly, even I did not anticipate the enormous enthusiasm for the occasion from all corners of the world," he said in a video message ahead of the second International Yoga Day on Tuesday.
Modi said the support and participation of the people last year and once again now "redeems the commitment to nurture and promote this ancient discipline and reaffirms yoga as an exemplary manifestation of 'Vasudhaiva Kutumbakam' (the world as one family)."
"I recall the iconic images from that momentous day last year. All the way from the Pacific Islands to Port of Spain, from Vladivostok to Vancouver and from Copenhagen to Cape Town, thousands gathered to unite the bodies and minds through the practice of yoga," the prime minister said.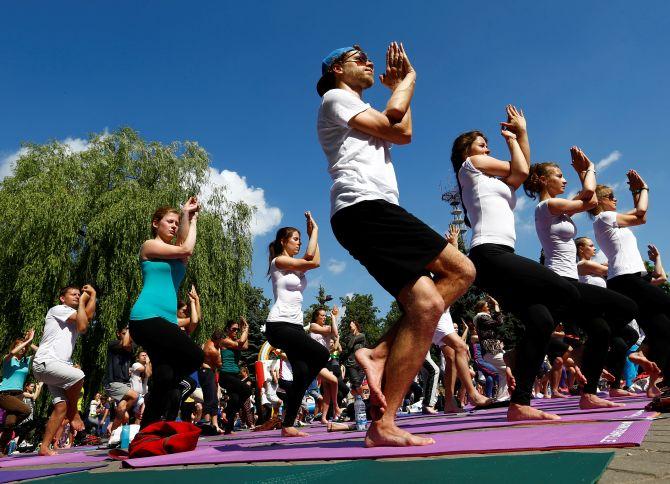 IMAGE: People do yoga during International Yoga Day in Minsk, Belarus. Photograph: Vasily Fedosenko/Reuters
And the reverberations of the discipline found a "natural home" at the UN Headquarters in New York, where the journey had begun, he said. Through a historic resolution, the UN General Assembly designated 21 June International Day of Yoga last year.
Maintaining that "yoga is much more than a physical exercise," he said "it enables us to access a new dimension of the self, even while providing a holistic approach to preventive healthcare and well-being."
"Yoga helps us to restore our balance and furnishes us with a much-needed sense of clarity. And through its unifying power, we seek completeness, and at the same time, a oneness with the world," he said.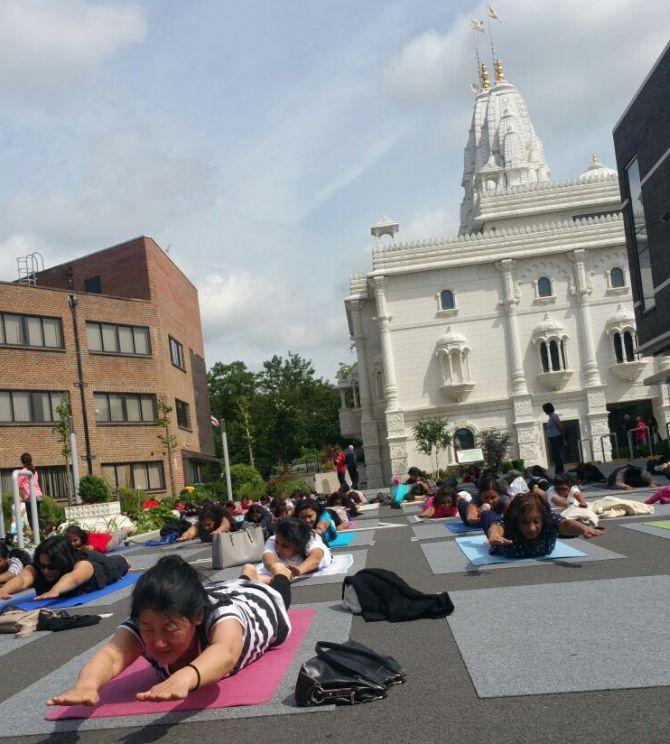 IMAGE:
People across the community of all ages and backgrounds perform yoga at Kingsbury Mandir, UK. Photograph: Twitter
"It gives me great pleasure to address you as we prepare for the 2nd International Day of Yoga -- this unique occasion that brings all of us together to celebrate the invaluable gift of India's ancient tradition," Modi said.
He thanked the people for their commitment to promote the discipline, saying "Today all of you are the ambassadors of yoga, taking forward India's ancient message to the world."